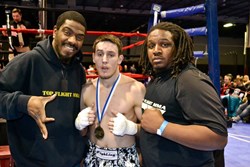 The training at Top Flight MMA is really paying off so much, I'm loving it!
Belcamp, Maryland (PRWEB) February 13, 2014
At the Delaware Sport, in a IBF fight promotion event, Eddie "The Dude" Doud of Top Flight MMA Academy, stepped back in the ring for his second Muay Thai. IBF fight promotions is responsible for producing some the best Muay Thai talent in the Maryland, Delaware, Pennsylvania, and New Jersey area, even having of the promotions standouts win the WKA Nationals and WKA World titles. With his own goal of being a future champion and one the best fights in the area, Doud put on another impressive performance showcasing his rapidly increasing skill progression, earning a dominant unanimous decision victory.
In all 3 rounds, Doud showed superior speed with his hands and feet, and showed to be more effective with his volume of strikes, landing the cleaner shots more frequently earning him a dominant unanimous decision victory.
When asked what he thought about his performance Doud had this to say, "This is was the most comfortable I ever felt for a fight. It allowed me to really go out there do what we have been working on back at the gym. It feels great, I can really see all the hard work back at Top Flight MMA paying off. Im loving it and hungry to keep on getting better."
Doud plans on staying active in the ring and cage to keep skill growing and to gain more experience. His immediate plans are to compete in Stellar fight and at the WKA Nationals in the next few months to come.