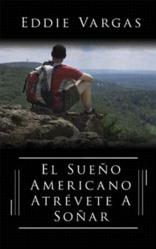 GARDNER, Mass. (PRWEB) July 02, 2013
Eddie Vargas shares stories from his life that illustrate how he pursued his dreams in the face of seemingly hopeless circumstances in his new Spanish-language autobiography, El Suen o Americano Atre vete a Son ar (now available through AuthorHouse).
Vargas lived in Brooklyn, N.Y., until he was 12 years old, when his family moved to a Third World country. For the first time, he observed how poverty destroyed the hopes and dreams of countless people, especially children. "Everyday as I walked through many streets, I could see the pain and suffering in their faces," he recalls.
After four years, Vargas decided to return alone to the United States to pursue the American dream. "When I arrived to the city I had known and loved for so many years, I thought that my life would be a walk in the park," he said. "I never imagined that poverty would follow me from a Third World country and become my companion for many more years to come. I struggled, and trying to survive became a daily battle."
Vargas was renewed with fresh hope one day when a childhood dream came true for him. He has always been a Yankees fan, but at his minimum-wage job he couldn't afford tickets to watch his favorite team play. At age 18, Vargas was working at a hotel and his boss asked him to escort the New York Yankees. Vargas soon found himself in an elevator with his childhood baseball heroes. "On that night, my childhood dream would become a lifelong cherished moment," he says.
Despite this exhilarating experience, Vargas faced continued hardships and felt that his other dreams were simply fading away as he attempted to make a career for himself in the real estate and mortgage industry. "To me, the American dream was just that, a dream that could only happen in the world of make believe," he says. He remained determined, however, and was able to pull himself out of debt and succeed in his life goals.
The story, "Do You Remember Me?" describes Vargas' experience with trying to buy a house for the first time. The mortgage broker left him hanging several days before the closing, and his attorney told him that if he did not find a new lender, he would lose the deposit and shatter his dreams of becoming a homeowner. Vargas knew that this treatment was unfair, but felt that there was nothing he could do. Three years later, he got his sweet revenge when he walked into the mortgage broker's office and told him about the success he had with the house.
As Vargas takes readers through his career and family life, his unwavering determination inspires and gives hope to others in dire situations. "I know today that, indeed, sometimes dreams do come true!" he says. This is Vargas' first book. More information is available at http://www.atreveteasonar.com.
AuthorHouse is the premier publishing house for emerging authors and new voices in literature. For more information, please visit http://www.authorhouse.com.