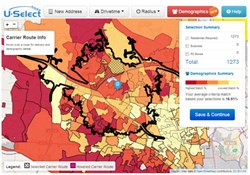 We are thrilled to launch this enhancement to our EDDM® online mapping tool... it is our number one request from clients.
Glen Allen, Virginia (PRWEB) September 16, 2013
Taradel LLC announced today the launch of Demographics with Heatmap ROI, an upgrade to its existing online mapping technology for the USPS® Every Door Direct Mail® program.
The new feature enables advertisers to mail offers to the postal carrier routes that best match their target audience profile. Advertisers can include up to three demographic selections, at no additional cost, to identify the best direct mail campaign distribution areas. Available demographic selections include: household income, age, home ownership, presence of children, and gender.
"We are thrilled to launch this enhancement to our EDDM® online mapping tool," says Chris Barr, director of marketing for Taradel LLC.
"Our clients have mailed more than twenty million offers, across all fifty states, via our U-Select (online mapping tool) technology. Through this vast experience, our number one request from advertisers has been, 'to build-in demographic selections'. So we listened to them --and the finished product is jaw-dropping."
With a simple point-and-click interface, U-Select makes planning and launching a turnkey direct mail campaign possible in ten minutes or less.
U-Select works by enabling advertisers to enter any U.S. mailing address, and then review local carrier route mailing options by radius, drive-time, or free-hand targeting. With the addition of Demographics with Heatmap ROI, users can now target prospects using the demographic criteria that best suits their needs.
Brendan Hurley, CMO for Goodwill of Greater Washington, recently used Every Door Direct Mail® to generate awareness for a grand opening event. "The grand opening of our new location was an amazing success thanks in large part to Taradel & EveryDoorDirectMail.com. Their HeatMap ROI technology helped us find the routes that best represented the people we wanted to reach with our first campaign. The week our mailers hit we had our largest one day sales total ever, and that was after a 25% discount on all donated clothing."
With the support of a loyal small business community client-base, and new partnerships with several national brands, Taradel LLC is poised to continue its startup-like growth trend through 2014 and beyond.
About Taradel LLC
Taradel LLC is a perennial Inc. 5000 company with an A+ Better Business Bureau rating. All EveryDoorDirectMail.com orders are managed and processed by Taradel LLC. To learn more, visit http://www.taradel.com or connect on Facebook at https://www.facebook.com/TaradelLLC.
EVERY DOOR DIRECT MAIL®, EDDM®, EDDM RETAIL®, EDDM BMEU™, UNITED STATES POSTAL SERVICE®, U.S. POSTAL SERVICE®, USPS®, U.S. POST OFFICE®, POST OFFICE™, and ZIP CODE™ are trademarks of the United States Postal Service® and are used with permission under license.