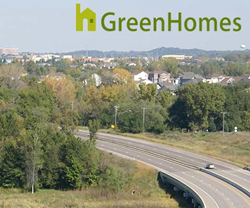 We are committed to pioneering housing schemes like this, designed to encourage living as 'lightly' on earth as possible whilst addressing the need for affordable housing. ~ Green Building Press
Eden Prairie, Minnesota (PRWEB) March 22, 2014
Eden Prairie, Minnesota residents are set to benefit from the City's strident efforts to plan and build affordable green energy efficient homes, according to plans from the Eden Prairie MN Green Neighborhood Development Initiative. As announcements of further progress with Homestead Partners for the new neighborhood comprised of single-family housing moves forward, concerned residents and eager prospective home buyers gain much from attending public meeting and voicing opinions.
"Many Eden Prairie residents are asking just how it may change the prairie they enjoy, increase traffic flow, and impact home values," says Jenna Thuening, owner of Home Destination. "Yet city leaders are assuring the public that the plans will successfully counter the percentage of luxury houses in Eden Prairie and meet demands for moderately priced homes and smaller lot sizes."
Eden Prairie MN civic leaders are taking national attention for green housing as they further development plans of an Eden Gardens Green Single-Family Neighborhood Development that would reside in the vacant land at the southwest corner of Eden Prairie Road and Scenic Heights Road. The City's primary focus for this housing project begins with plans to increase sustainable energy efficient homes, mainly consisting of single-family affordable homes in new construction. The City of Eden Prairie sees greener homes and Eco-friendly living needs merit the creation of a sustainable single-family neighborhood that implements "green" measures from conception and hopes to gain broader public support.
Keeping the "prairie" in Eden Prairie, MN has some residents concerned as the city moves forward with volatile plans for dense housing on 8.39 acres currently owned by the State of Minnesota. The city is strategically planning to offer more moderately priced single-family homes that are are built to be highly energy efficient and termed the City of Eden Prairie's Green Mid-Market Neighborhood. As Q! of 2014 begins a new year of purposeful planning for "green homes", Eden Prairie real estate demographics are under closer scrutiny.
Eden Prairie is one of the only cities within the Twin Cities where residents enjoy over 4,500 acres of open space wetlands, woodlands, including the picturesque views of 17 lakes and more than 100 ponds. "Homes for sale in Eden Prairie that offer such views are highly sought. It is a natural concern of homeowners that new residential construction enhances the prairie and does not diminish expansive views enjoyed today from inside their homes," adds Thuening.
At the Eden Prairie City Council Meeting held on March 18, Riley Purgatory Bluff Creek Watershed District discussed what new watership rules means to the city, customers of the city, or developers who will oversee the building of the homes. Eden Prairie Public Works Director Robert Ellis expressed they are supportive of entering the stage of permitting yet added cautions. He said they are: "Concerned it might be too aggressive in some areas; buffers, lake buffers, stream buffers, steep slope buffers, and how linear city projects are addressed for housing and planning".
The council discussed that new watershed rules would have new restrictions on Eden Prairie housing developments and clearly there were some concerns. Ellis recommended moving forward with rules similar to the Nine Mile Creek Watershed District, as they are better known. "I don't think people truly understand how it will be implemented. There is a lot of room for interpretation within the rules," he added.
Spokes woman and president of the Minneapolis Area Association of Realtors Emily Green said "The greatest barrier in those areas is affordability. There's definitely a greater interest in a more manageable [lot] size." The plan to build 21 Eden Prairie homes in the mid-market range of $240,000 to $360,000 on the remaining acreage is intending to appeal to homebuyers among senior empty nesters, single parents or small families seeking to buy a home.
Public and private property owners questions and comments, especially from Eden Prairie residents living in or near the watershed, regarding the new rules and permitting processes in the district are encouraged. Open upcoming wetland meetings that impact Eden Prairie green housing developments will be posted.
Home Destination has helped Eden Prairie real estate buyers find single-family homes for over 15 years. Contact Jenna Thuening at 612-396-7832 if you are seeking to enter the Eden Prairie housing market.