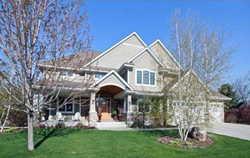 Eden Prairie real estate has outperformed other metro markets even during recession and continues to show solid gains in home prices. ~ Jenna Thuening
Eden Prairie, Twin Cities Minnesota (PRWEB) October 23, 2014
Eden Prairie Minnesota real estate outperforms the metro in comparisons time and again. It offers a lead to residents who own homes in terms of higher home sales for price gained per square foot, according to housing data from 10K Research. Typically, Eden Prairie buyers don't balk at paying about 15% per square foot over the median cost to buy a Twin Cities home. For homebuyers seeking to make a purchase in a location that has a proven track record of home price appreciation rates, Eden Prairie neighborhoods have consistent preformed above metro averages since 2005.
"The increase of homes listed for sale in Eden Prairie may be contributing to two things; first, an increased supply that is moderating the rate of home price gains," says Jenna Thuening. "Secondly, more traditional homebuyers are tipping their toes into becoming a successful real estate investor."
Eden Prairie Minnesota Housing Market Update for September 2014, as comprised by Home Destination using Northstar MLS data.

New Real Estate Listings were at 142 in 2013; and are now 135, which is a drop of -4.9% + 8.4%
Closed Home Sales were at 106 in 2013; and are now 82, a drop of -22.6%
Median Home Sales Price in 2013 stood at $272,750; in Sept 2014 it was $310,000, an increase of + 13.7%
Average Home Sales Price in 2013 was $335,590, in Sept 2014 it improved to $345,076, an increase of 2.8%
Price Per Square Foot ran $127 in 2013 and increased to $129 last month, an increase of + 2.1%
Percent of Original List Price Received in 2013 was 97.6%, and was 95.7% last month, a decrease of-1.9%
Days on Market Until Sale stood at 69 days in September of 2014 and 68 in 2014, a drop of -1.4%
Number of Homes Listed for Sale was 358 in 2013 and improved to 376 in 2014, an increase of + 5.0%
Months' Supply of Inventory was 4.1 a year ago, and was 4.4 in September 2014, an increase of + 7.3%
In step with the overall housing picture in the Twin Cities, the City of Eden Prairie shows gains in the its housing inventory level. This adjusts both home buyer and seller advantages. Home buyers are pleased to have greater choice with the increased number of homes to view and select from. Conversely, real estate sellers who previously enjoyed thin competition now find the market a bit more competitive. Having improved to a 4.4 months of supply of inventory available, it is fair to summarize the Eden Prairie real estate market as strong and balanced. With an overall reading of improving home values and economic conditions, it is a good climate whether buying or selling a home.
The price of an Eden Prairie sold home by square foot in specific sectors:
Single-Family Homes at $388,000 with a price gain of +3.9%
Townhouse-Condo Homes at $189,550 with a price gain of +14.7%
Condo Homes at $123,800 with a price gain of +10.7%
Townhouse Homes at $203,000 with a price gain of +16.0%
Homes of All Property Types at $295,000 with a price gain of +5.8%
Prospective home buyers looking for a top location to purchase a family home are always keeping education top of mind. Eden Prairie was a forerunner school district for accomplishments that merited the Award for Excellence in Education, according to US News. Some parents actually seek to buy an Eden Prairie home after comparisons that show students achieve above state and national norms on all standardized tests. Students taught in Eden Prairie schools have achieved the topmost figure of National Merit Scholars semi-finalists in Minnesota and nearly 100 Advanced Placement Scholars every year.
Beyond that, for sports enthusiasts, Eden Prairie Schools have triumphed and out preformed local competition by gaining numerous team and individual championships and awards at both state and national levels. Students can also choose from 50 different clubs to meet their interests. The value of education offered at Eden Prairie public schools has earned the City of Eden Prairie notoriety as one of the Best Places to Raise Kids by Parents Magazine and Best Places to Live by Money Magazine.
"Residential neighborhoods in Eden Prairie enjoy being located on or near one of the areas large lakes or ponds; the city has more than 170 mi of multi-use trails, 2250 acre of parks, and 1300 acres of natural woodlands and grasses," comments Thuening. "This contributes to setting homes in Eden Prairie apart as a high demand real estate. We anticipate that real estate in Eden Prairie will continue to outperform in Twin Cities market comparisons."
About Home Destination - Twin Cities Real Estate:
Home Destination offers a loyal and committed real estate professional service that personally handles all the details of selling or purchasing a Twin Cities home. Highly regarded by peers as a Minneapolis metro expert for over 15 years, gain a skilled representative as guide to make the best possible housing decisions. Helping all home buyer types, from individuals seeking to buy their first home in Eden Prairie to individuals moving-up to a luxury home, Jenna Thuening has the real estate experience and acumen buyers and sellers benefit from.
Contact:
Jenna Thuening
Web. http://www.homedestination.com
Email. jenna(at)homedestination(dot)com
Tel. 612-396-7832