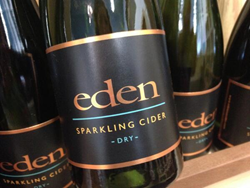 The cider is fermented and aged in French oak puncheons for 1 year, then bottled with a secondary fermentation, and hand disgorged 6 months later.
Newport, Vermont (PRWEB) June 03, 2014
Eden Ice Cider is pleased to announce the expanded release of Eden Sparkling Dry Cider to markets outside of Vermont. Released in a limited quantity in Eden's home state last year, it was named Best Vermont Cider 2013. As of Summer 2014 it is now also available in New York, Boston, Maine, New Hampshire and shortly in Chicago.
Eden Sparkling Dry Cider is made with locally grown apples, including traditional heirloom and cider varieties. 50% of the blend is Kingston Black, a classic British cider variety. The cider is fermented and aged in French oak puncheons for a year, then bottled with a secondary fermentation that is created with additional juice rather than sugar. After another 6 months each bottle is hand-disgorged in a careful process that removes the yeast but retains the vibrant natural effervescence of the in-bottle fermentation. The finished cider has 8.5% alcohol as a result of using true cider variety apples that have higher beginning sugar levels than typical dessert apples.
Eden Sparkling Dry is full-flavored, tannic, clean and very dry with a champagne-like mouth feel and bright acidity. It is a wonderful accompaniment to food, including barbecue, cheeses, and grilled fish. It makes a sublime pairing with oysters, and is featured on the menu at Balthazar in New York.
Eden's new Sparkling Dry Cider will be featured as part of a special Eden Grand Tasting on Friday, June 20th in the upcoming CiderWICK celebration at Jimmy's No. 43 in New York.
For more information about Eden, including distributors and availability, see the "For The Trade" page at http://www.edenicecider.com, or contact Eleanor Léger at contact(at)edenicecider(dot)com.
For information about CiderWICK at Jimmy's No. 43, see http://jimmysno43.com/events/ciderwick-cider-solstice-weekend/.
About Eden Ice Cider Company:
Albert and Eleanor started Eden Ice Cider Company in the basement of their farmhouse in 2007. Their passion is to create the highest quality cider from locally grown apples that truly reflect the terroir of their Northern Vermont climate. They work to express the qualities of heirloom and cider variety apples with as little intervention as possible. Eden's Ice Ciders and Aperitifs have been recognized by Food & Wine, The Art of Eating, Serious Drinks, Tasting Table, Martha Stewart Radio, and "The Food Lover's Guide to Wine" by Karen Page and Andrew Dornenburg. These exquisite ciders can be found on the table at the nation's finest restaurants including Gramercy Tavern, ABC Kitchen, Balthazar, Plume, Rose's Luxury, Trencherman's, Longman & Eagle and The Publican.