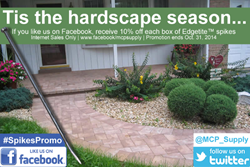 Like and Follow MCP Supply on Facebook and/or Twitter.
Lewisberry, PA (PRWEB) June 09, 2014
MCP Supply is a supplier of high-quality construction materials, which includes the EdgeTite™ Paver Edging Spike. Paver Edging Spikes help solve separation problems that can occur after installing pavers supported by edging and spikes. Jeff Goodman, a professional hardscape installer, invented this product because of firsthand experiences that he encountered over his professional career.
Mr. Goodman realized he needed a product that would make installations more successful over long periods of time, and the result is a stronger and more secure fastener. This is made possible by the specially designed angled tip which allows the spike a tighter installation. During installation, the head moves towards the pavers and the tip moves away providing an angled installation. This holds the paver edging in place, adding pressure where it's needed and resistance from frost heaving.
This is a precision engineered product that gives customers a much needed repair solution for spikes that have already moved or pushed upward and a way to prevent this problem from happening in the first place. An added bonus to this amazing product is from now until October 31, 2014, the company is offering a 10% price reduction off each box of Edgetite™ spikes bought through their website. Like them on Facebook or follow them on Twitter and automatically receive a coupon to complete this offer.
MCP Supply encourages connections through its Facebook, Twitter, Linkedin and YouTube accounts. You can Like MCP Supply through its Facebook page at: https://www.facebook.com/mcpsupply?fref=ts. Their Twitter handle is: @MCP_Supply and their respective Linkedin and Youtube accounts are:
LinkedIn: https://www.linkedin.com/company/mcp-supply/
YouTube: http://www.youtube.com/user/Edgetite
MCP Supply is a successful technology and sourcing company that focuses on innovative products that make a difference by improving the construction industry wherever possible. Located in south central PA, MCP Supply currently has distribution hubs located in South Carolina, Illinois and at its headquarters in Lewisberry PA. MCP Supply invites the readers to review the testimonials on their website.
To learn more about this industry-changing spike, visit http://www.mcpsupply.com or watch videos on their YouTube channel.
Media Contact
Michael Pastal
717-440-1680
mpastal(at)mcpsupply(dot)com