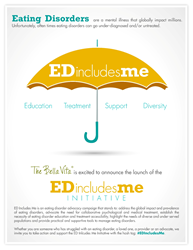 I have found the strongest barrier for treatment was and continues to be minimal education and awareness of eating disorders.
Los Angeles, CA (PRWEB) October 23, 2014
Research has shown that eating disorders (including anorexia, bulimia, binge eating disorder and clinically significant eating disorders) impact 20 million women and 10 million men in the United States. Those are just the numbers for those who are diagnosed, as the National Association of Anorexia Nervosa and Associated Disorders (ANAD) report that only 1 in 10 males and females with an eating disorder seek treatment. Where do the other 300 million people go for eating disorder education, support and treatment? That answer is the driving force behind the 'Eating Disorders Includes Me' Initiative (ED Includes Me).
The 'ED Includes Me' Initiative was created and is led by eating disorder pioneer Patricia Pitts, PhD, and The Bella Vita Eating Disorder Treatment Centers. "In my 30 years of clinical experience, I have found the strongest barrier for treatment was and continues to be minimal education and awareness of eating disorders. The general public needs sound facts regarding the severity, impact and preventive measures for eating disorders. This will help mental health and medical professionals to better support and improve the lives and health of those struggling with eating disorders." The initiative focuses on eating disorders being publically recognized as a mental illness globally impacting 70 million people; unfortunately, eating disorders are often under-diagnosed or go untreated. Every person is susceptible to the impact of eating disorders this includes a loved one or yourself.
'ED Includes Me' is an eating disorder advocacy campaign that stands to: address the global impact and prevalence of eating disorders, advocate the need for collaborative psychological and medical treatment, establish the necessity of eating disorder education and treatment accessibility, highlight the needs of diverse and under-served populations and provide practical and supportive tools to manage eating disorders. The ongoing initiative will feature blogs, tweetchats and support materials to spread awareness and action to fight against eating disorders.
The initiative begins on Thursday, October 23, 2014 with our 'Diversity Spotlight' focusing on eating disorders and mental health issues in the Latino/a community. Follow the hashtag: #EDIncludesMe to join our initiative and share how ED does include you!
About The Bella Vita. The Bella Vita offers a multi-faceted approach to healing anorexia nervosa, bulimia nervosa, binge eating disorder and disordered eating for clients while providing a safe and supportive environment that helps each client to strive for a healthy balance in his or her life.
The program works to uncover the underlying cause of the eating disorder while addressing co-occurring conditions such as depression, anxiety, obsessive-compulsive disorder, trauma and alcohol and drug addiction. The Bella Vita is a CARF accredited program with transitional living, and several residential and outpatient treatment centers in Los Angeles, La Canada Flintridge, Woodland Hills and Thousand Oaks. For more information, visit http://www.thebellavita.com or call the 24/7 help line at 818-585-1775 for program and admissions questions or to schedule a confidential assessment with a therapist with advanced training and specialization in the diagnosis and treatment of eating disorders.
For media inquiries, please contact Melissa Moss at 323-255-0400, x121.