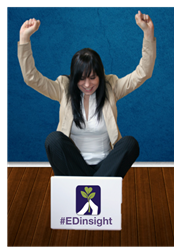 It's the most outrageously hopeful mental condition...
Los Angeles, CA (PRWEB) February 21, 2014
The Bella Vita, one of the nation's leading treatment centers for eating disorders, including anorexia, bulimia and binge eating, will host a Twitter chat from 7 to 8 p.m. Pacific on Tuesday, February 25th with Patricia Pitts, Ph.D., the center's founder and CEO. The subject for the chat, "The Outrageous Hope of ED," is designated by the hashtag #EDinsight. Participants can follow the chat on any web chat application such as http://www.tweetchat.com.
In addition to pioneering the nearly 30-year-old, highly successful treatment program and counseling thousands of ED sufferers, Pitts has special insight and knowledge of the journey her patients have undertaken. It's one she's traveled herself.
"At the Bella Vita, we believe in uncovering the deceptions that underlie this malady, because at its core, it's really just faulty thinking, what you might call a distorted perspective," according to Pitts. "Somehow these amazing individuals become literally 'blinded' from the real truth — that they are beautiful, whole, with unique gifts to share and enjoy and a rewarding, full life to live."
"We believe that a few steps toward self-exploration can unlock the grip of this insidious condition which keeps patients from seeing all that they really are and all that they can become. It's the most outrageously hopeful mental condition and it's why all of us at The Bella Vita are so passionate about showing these brave people the truth about who they really are."
During the chat, Pitts will share patient success stories and why she and the other therapists of The Bella Vita have strong hope for eating disorders sufferers whose conditions are often accompanied by shame, self-loathing and disordered thought patterns. They will share patient stories of hope and insight.
Although people of all ages suffer from eating disorders, the National Eating Disorders Association (NEDA) estimates that approximately a half million American teens struggle with eating disorders or disordered eating. Pitts believes that eating disorders parallel alcohol and drug addiction in being highly under reported, with just one in ten sufferers seeking treatment. It is considered the most lethal of mental health conditions.
For more information about the Twitter chat with Pitts, visit http://www.thebellavita.com/media.htm.