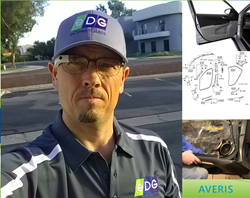 We remove the guesswork going forward on what parts to order and how to install them by simply just looking at the vehicle and specifically, the repair area. The future is here.
SCOTTSDALE, Ariz. (PRWEB) October 21, 2014
eDirectGlass, the leader in online SaaS automotive glass repair and replacement (AGRR) shop management and claim solutions along with its in-house "skunkworks" team, announced today the latest addition to the eDG family of mobile technology, Automated Visibility Enhanced Repair Information System or AVERIS.
AVERIS was specifically designed to assist automotive glass professionals in dealing with the complexities involved in identifying vehicle parts and accessing the recommended manufacturer guidelines for repair. With the pointing of the technician's smartphone, tablet, or Google Glass running the eDG mobile technician edition, the system will not only automatically identify the type of vehicle but also know for which area to display the parts breakout and manufacturer repair guide.
"As vehicle complexity grows, so do the headaches for those that perform automotive glass repair and replacement services. AVERIS removes the barriers that exist by displaying the information necessary to allow the technician to accurately perform the repair services to the guidelines provided by the manufacturer, "said Gary Hart, Technology Evangelist for eDirectGlass. "You have to look beyond the VIN to provide accurate parts and repair information and that is what AVERIS does, period. We remove the guesswork going forward on what parts to order and how to install them by simply just looking at the vehicle and specifically, the repair area. The future is here," continued Hart.
The technology developed by eDirectGlass used to power AVERIS represents a major leap forward in productivity and cost savings for automotive glass shops. Until now, repair professionals have had to use multiple costly methods to identify parts and the steps necessary to perform a repair or replacement, usually with very low success. By only pointing a smartphone, tablet, or Google Glass at the vehicle, one image replaces the countless time spent manually assembling the proper information. That is the simplicity and elegance of AVERIS.
"While others are promising to deliver solutions in the future that will only be static, eDirectGlass continues to innovate and deliver dynamic services and tools that greatly improve the efficiency and profitability for those involved in the automotive glass repair and replacement process. By seamlessly connecting existing data sources with cutting edge technology processes, such as 'vehicle DNA' matching, AVERIS is a shining example of providing meaningful tools that make an impact, " concluded Hart.
eDirectGlass has launched many innovative services and tools to the industry such as MyGlassClaim, YourFeedBackCounts, and its interactive text/message notification service eMinder that have set the standard for productivity, efficiency, and profitability. Like these services, AVERIS will not only exceed expectations in these areas but will set the standard by which all others will have to meet.
The company anticipates launching AVERIS at the beginning of 2015 as it is currently in closed user acceptance testing. A limited public beta program will be announced in the coming weeks that will expand to include devices on the Windows Phone and Apple platforms as current testing is limited to the Android platform.
About eDirectGlass
eDirectGlass, owned by AMJ Logistics(TM), Inc. and founded in 1995, is a privately held corporation based in Scottsdale, Arizona. AMJ builds applications and solutions where all aspects of the manufacturing, supply chain vendors, insurance and end-user industries converge. These applications and solutions enhance productivity, profitability and increase customer satisfaction critical to the growth and success of the marketplace. For more information on AVERIS, AMJ Logistics or eDirectGlass, contact Maria Iorio (maria.iorio(at)edirectglass(dot)com) at 480.993.0915 or visit our website at http://www.edirectglass.com.
# # #
eDirectGlass and AVERIS are a registered trademarks of AMJ Logistics, Inc. ©2014. No claim is made to the exclusive right to use "eDirectGlass" apart from the mark as shown. eDirectGlass USA and Canada Patent Pending.