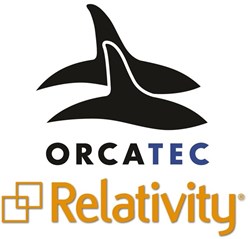 Users can now easily pump data between the OrcaTec Document Decisioning Suite and Relativity, preserving all tags associated with those documents both directions.
Atlanta, GA (PRWEB) January 22, 2014
OrcaTec, a pre-eminent provider of predictive coding and advanced analytics for corporations, law firms and governments, announced today that its technology now integrates automatically and seamlessly with kCura's eDiscovery software, Relativity, to create a close collaboration for document analysis, culling and review.
Once the integration is installed as a Relativity Application, users can now easily pump data between the OrcaTec Document Decisioning Suite™ and Relativity, preserving all tags associated with those documents both directions.
Previously, the manual process went in one direction, with OrcaTec exporting documents and tags that were then loaded into Relativity as an overlay. Now, the process is bi-directional and is accomplished automatically in the background.
"This integration recognizes that sometimes you may need to jump back and forth between systems during review." said Herbert L. Roitblat Ph.D., CTO and Chief Scientist for OrcaTec. "Some users may review in one and analyze in another, and this integration gives them the flexibility to do that easily."
The integration allows senior staff to continue their investigation in OrcaTec while reviewers begin to review the data set in Relativity.
Tags assigned in Relativity 8.1 or later are automatically available in OrcaTec, and tags assigned in OrcaTec are automatically available in Relativity when the documents exist in both systems. The results of any searches built in OrcaTec will now be available in Relativity as well.
"This integration of OrcaTec into Relativity provides an alternative set of search, analytic and predictive coding tools, including those that proved so successful in the Global Aerospace case, which we think many people will find useful," said Roitblat.
Through this integration, OrcaTec now becomes part of the Relativity Ecosystem. "Relativity is a development platform that allows our clients, hosting partners, and software partners like OrcaTec to innovate and build their own applications and integrations. We're very pleased that OrcaTec is providing another great option for the Relativity community," said Andrew Sieja, president and CEO of kCura. "These integrations allow our collective customers to use our solutions together to make their jobs easier and better."
The OrcaTec Document Decisioning Suite Application will be posted on the Relativity Ecosystem website soon, but the Application itself is available now.
"We believe that our predictive coding and advanced analytics are precedent-setting for the industry. OrcaTec is extremely accurate at reducing the volume of documents that are likely to be responsive," said Roitblat. "Our customers are also comfortable with Relativity and have been asking for an easier way to use the two products together. This integration is giving attorneys what they want."
To see a brief video about how the two technologies work together, please click here.
-------
About OrcaTec
OrcaTec helps clients address and manage business and legal challenges associated with the discovery and management of unstructured data with advanced analytics and predictive coding technologies delivered in the form of products and services to law firms, corporations and governments. OrcaTec offers a complete suite of textual analytics tools including concept search, visual clustering and predictive coding as part of the OrcaTec Document Decisioning Suite™. The suite provides legal professionals with an all-in-one offering for the analysis and review phases of the electronic discovery process and includes OrcaPredict for predictive coding, early case assessment and first pass document review, OrcaSearch for concept searching, OrcaCluster for visual clustering and OrcaReview for second pass document review. To learn more about OrcaTec and the OrcaTec Document Decisioning Suite, visit OrcaTec.com or contact sales(at)OrcaTec(dot)com.
About kCura
Recognized as a "Leader" in Gartner's 2013 E-Discovery Magic Quadrant, kCura are the developers of the e-discovery software Relativity, a web-based platform for the processing, review, analysis, and production of electronic data. Relativity has more than 85,000 active users worldwide from organizations including the U.S. Department of Justice and all of the top 100 law firms in the United States. Relativity also powers Method, kCura's workflow and notification system for managing legal hold and risk assessment processes. kCura helps corporations, law firms and government agencies meet e-discovery challenges by installing Relativity and Method on-premises and providing hosted, on-demand solutions through a global network of partners. kCura has been ranked the 100th fastest-growing technology company in North America on Deloitte's Technology Fast 500 and named one of Chicago's Top Workplaces by the Chicago Tribune. Please contact kCura at sales(at)kcura(dot)com or visit http://www.kcura.com for more information.