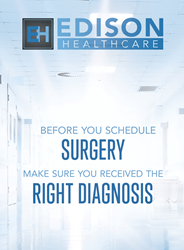 "We are pleased to collaborate with Edison Healthcare to ensure access to Mayo Clinic for patients with complex and serious illnesses who would benefit from expert care." - Charles Rosen, Medical Director of the Department of Contracting and Payer Relations at Mayo Clinic
TULSA, Okla. (PRWEB) January 24, 2019
Edison Healthcare is expanding its Smart Care Network by announcing a strategic collaboration with Mayo Clinic. Edison Healthcare's network has rapidly grown as self-insured employers are taking control of their health plan by offering surgical second opinions and procedures with the best healthcare facilities in the United States.
Tom Emerick, President and Co-Founder of Edison Healthcare, formerly worked as the Vice President of Global Benefit and Design for Walmart Stores. He later helped implement Walmart's Center of Excellence program which offers specialized treatments for cancer, organ transplantation, spine, knee, hip and heart surgeries. Emerick then created Edison Healthcare and replicated the program so that other self-insured businesses, of any size, could better serve their employees' complex health needs and decrease their healthcare spend.
Mayo Clinic and Edison Healthcare are both committed to serving patients and enhancing the delivery of care through collaboration. "Our relationship with Mayo Clinic is based on our promise to provide quality medical care in a team-based, data-driven and accountable model," says Tom Emerick. "Mayo Clinic is a leader in providing premiere diagnostic and treatment services for patients with serious and complex conditions."
"We are pleased to collaborate with Edison Healthcare to ensure access to Mayo Clinic for patients with complex and serious illnesses who would benefit from expert care," says Charles Rosen, Medical Director of the Department of Contracting and Payer Relations at Mayo Clinic.
About Edison Healthcare:
As an independent Smart Care program, Edison Healthcare helps self-insured employers provide access to leading health systems committed to offering multidisciplinary, team-based approaches in the evaluation and treatment of patients. The emphasis is on appropriate care. Our Smart Care Centers ensure that the original diagnosis is correct, and the treatment is appropriate.
For more information please visit: http://www.edisonhealthcare.com