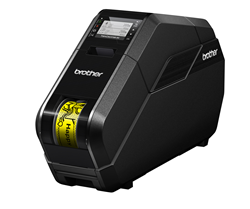 We are very excited about the addition of the Brother TapeCreator custom tape machine to the eDist line of products
Mahwah, NJ (PRWEB) December 23, 2014
eDist Business, LLC is excited to offer another custom solution to their value added resellers of business products and services – the TP-M5000N TapeCreator. As one of the leading wholesale distributors of genuine Brother Machines and supplies, eDist Business continues to secure quality revenue building products for their resellers, a key benefit when partnering with the premier value added distributor of business products.
"We are very excited about the addition of the Brother TapeCreator custom tape machine to the eDist line of products, and continue our commitment to our reseller channel to bring the newest innovations in business solutions to them. We are always eager to add new products to our business distribution line that yield the potential for strong revenue growth for our value added resellers, that's why we continue to fortify key partnerships in the manufacturing industry," said Mike Whalen, Vice President of eDist.
The TapeCreator custom tape machine makes getting the message out easier than before for the small business owner and consumer alike. From building company specific brand tag lines, key messages and product promotions to announcing special events and gift wrapping, the ease and convenience of creating a brand on tape in minutes is now a reality. Packing, shipping and wrapping take on a new meaning with messages that can now be relayed in print. It can even produce QR codes and barcodes so it has a vast array of applications from industrial to party planning.
Early 2015 Brother will be expanding the capabilities of the TP-M5000N Tape Creator to offer 15mm fabric ribbon to allow for truly custom packaging that will be ideal for weddings, bridal / baby showers and more.
The genuine Brother tape is available in several colors including: White, Clear, Yellow, Red, Blue, and Pink. These colors will be the background for custom text and graphics. The tape comes in two sizes: 38mm (approx. 1½ inches), and 50mm (approximately 2 inches, allowing for many application uses. Ink options currently available are: Black, White, Red and Blue, offering many custom options by combining colored ink with tape.
As a wholesale distributor of genuine Brother Supplies, eDist stocks all supplies for all machines at competitive prices. By purchasing only genuine Brother Supplies from eDist, resellers can be assured that their machine will be operating at maximum efficiency and longevity, saving those costly repairs and machine downtime. In return the value added resellers can provide their customer base with the quality and service they require with the products they trust.
Product sales support, training and marketing assistance is available to all qualified eDist Business resellers. eDist is committed to the success of their reseller channel and provides these support services at little or no cost. To learn more about these support services please go to http://marketing.edist.com/.
For more information about the Brother TapeCreator, or to become a certified reseller, please visit eDist at http://business.edist.com/become-a-reseller/become-a-brother-reseller/brother-tapecreator/.
About eDist Business, LLC:
eDist Business, LLC is the Premier Value Added Distributor in both business products, and voice recognition solutions industry. They offer state-of-the-art technical support, professional logistics, and cutting edge strategic marketing programs that assist resellers with the promotion and growth of their business. The eDist team consists of experienced technical sales staff selected for their specific skills and product knowledge. eDist takes pride in their ability to serve the needs of value added resellers with the personal touch of an independent wholesale distributor. The diverse product lines and depth of inventory provided by eDist offers one-stop shopping at competitive prices, enhancing reseller profitability and making business easier. For more information about eDist Business and their over 40-year history serving the independent reseller, visit http://business.edist.com.