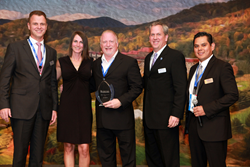 We look forward to continuing this pattern of growth within our Interlogix dealer base here at eDist
Mahwah, NJ (PRWEB) December 02, 2014
eDist was awarded the Distributor Growth Hero of the Year award for their outstanding growth over the past 12 months during the 2014 Lenel Interlogix Partner Summit at the Omni Grove Park Inn in Ashville, NC. eDist has been a leading wholesale distributor for Interlogix security products for the past 15 years.
"We are so honored to be recognized by our friends at Interlogix," said Nick Scarane, President of eDist Security. "Our customers have always shown a desire to resell Interlogix solutions due to their level of quality and innovation. We look forward to continuing this pattern of growth within our Interlogix dealer base here at eDist."
Interlogix offers a complete-solution for residential and commercial security, life safety, IP video, CCTV, access control and home automation. Their residential systems feature intuitive, customizable solutions that were created with the busy family in mind. Interlogix is committed to remaining the one-source option for channel partners by continuing to provide leading, reliable residential and commercial system solutions. They were also the first partner to participate in eDist's co-op program – The eDist Partner Program.
The eDist Partner Program provides the dealer community with pre- and post-sales support that includes business consultation, access to best practice sales resources, technical support and training, as well as co-op marketing funds, which can be used via the eDist Security Marketing Portal. eDist's Interlogix marketing portal has a tailored menu of collateral pieces proven to increase awareness and sales. Marketing campaigns can be built using landing pages, email, website banners, direct mail, door hangers and more. Custom marketing collateral along with full website development is available at a specially negotiated rate, and is available to all dealers.
For more information on the eDist Partner Program or to request access to the eDist Marketing Portal, visit: http://edistpartner.com/
To learn more about Interlogix or to become an Interlogix dealer, visit: http://security.edist.com/our-products/interlogix-wholesale/
About eDist Security:
About eDist: eDist Security is your reliable source for security, surveillance and home automation products. eDist is a wholesale distributor for over 250 vendors including Interlogix™, DSC, Qolsys, 2Gig, NAPCO, System Sensor®, Digital Watchdog, FLIR®, Mircom™, Nest®, Samsung, and many more, covering everything from intrusion, IP and CCTV products to access control and fire equipment, and from home theater to home automation and structured wiring. eDist Security boasts multiple state-of-the-art showrooms and training facilities across the US and offer the personal touch and support that only a value added independent distributor can provide. To learn more visit [http://www.security.edist.com