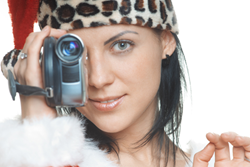 I'm not an artist. I set the camera up and tell my story. Tyler Perry
(PRWEB) November 27, 2014
Video Caddy is pleased to announce a special winter discount for all professional video editing services. The 5 percent discount is effective immediately, just in time for one of the busiest times for videographers everywhere. One economic forecast projects 60 percent of holiday shoppers will match or exceed their 2013 spending levels. Video viewers are traditionally bigger spenders than average consumers — online video ads are often the best way for businesses to reach this lucrative audience of potential customers.
During the holiday season rush, video professionals are frequently confronted by a dilemma — spending time with family or accepting more professional work. It is not unusual for video editing assistants to receive a bigger workload whether they are ready for it or not. Meanwhile, video agencies want to stand out from the competition by enabling customers to watch family videos as quickly as possible. These conflicting goals can all be accomplished in a timely fashion while saving money with Video Caddy's special holiday offer.
A senior operations manager at Video Caddy has this to say: "We at Video Caddy are as excited about the holidays as our clients are. The best way we can help our clients to have an even better holiday experience is by making sure that their video editing projects are finished to perfection while they continue to enjoy the holidays 24/7. Let us do the work while you relax and make your customers happy."
During any season, Video Caddy represents the epitome of video editing professionals who are always committed to the success of their clients. Video Caddy has been a global leader in the video industry for well over a decade. They have perfected the art and science of serving demanding customers across the globe. Within the company, expert teams specialize in holiday vacation videos, real estate video tours, corporate videos, wedding video editing, interview video editing and video clipping
Video Caddy teams use advanced video software that includes Adobe Premier Pro®, Final Cut Pro® OSX and Edius Pro®. Streamlined workflow systems allow Video Caddy to adjust immediately to sudden increases in volume. This means that Video Caddy's clients can receive speedy turnarounds on a 24/6 basis, with project completion within 24 hours whenever possible — without hiring any more employees even during peak demand periods like the holidays.
Video Caddy's industry-leading prices are already 40 to 60 percent below the competition. But the winning philosophy at Video Caddy is to explore how to make a good thing even better — in this case, another 5 percent that can go directly to improving your bottom line while you are enjoying holiday cheer with friends and family.
To avail 5% discount on video editing projects visit: http://www.videocaddy.com/
About Video Caddy:
Video Caddy is a global leader in advanced services for videographers — audio editing, video editing, storyboards and animation services. For over a decade, Video Caddy has been recognized as a world-class provider of service and quality to entrepreneurs, small businesses and Fortune 500 companies.