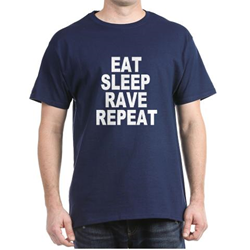 Our new line of EDM shirts clearly shows how you can combine the party life and fashion at the same time.
St. Louis, MO (PRWEB) July 13, 2014
Insane T-Shirts company La La Land Shirts, an industry leader in providing cutting-edge T-shirts, is proud to announce the release of their new EDM shirts made specifically for the music festival season including EDC, Ultra Music Festival and TomorrowWorld. All of La La Land Shirts, including their fun party shirts, can be found on their website.
"In today's crazy world, it's important to have a good time and look like a million bucks while you're at it," says a La La Land Shirts spokesperson. "Our new line of electronic dance music shirts clearly shows how you can combine the party life and fashion at the same time. La La Land Shirts does this in a whimsical way, not to be taken too seriously."
Many businesses ask what the value of uniquely designed shirts is and whether the cost is justified. La La Land Shirts would like to remind businesses and customers that being unique and speaking one's mind are some of the largest selling points of online shirts in the world, so the question really isn't whether a company can afford to produce unique clothes, such as crazy shirts. The real question should be whether companies can afford not to.
The trick is to create compelling shirts with interesting and topical content that an audience will relate to, talk about and share with others. La La Land Shirts excels at capturing the essence of the human spirit. No matter what a business does, there is always a human element and that element is crucial when it comes to making a connection and building trust with potential clients. This is a motivating factor in every decision that La La Land shirts makes.
For more information, visit http://lalalandshirts.com.
About La La Land Shirts:
La La Land Shirts is a company that has been around since 2007 and is committed to making shirts that appeal to a wide range of people, including our ironically funny shirts. They are principled, trustworthy and continuously strive to improve themselves and their customer experience.
They help their fans wear the craziest shirts possible on the weekends or to their next college party. Since they have been using CafePress to print their shirts they have been able to cut their cost tremendously. La La Land Shirts deep understanding of pop-culture, process and industry standards have helped them develop a rich set of best practices that are able to be leveraged across all industry segments.