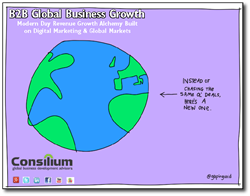 Digital marketing is the key to real export success for US manufacturers
Boston, MA (PRWEB) June 03, 2015
Consilium Global Business Advisors announced today the publication of a new eBook designed to help middle market B2B manufacturing companies harness the power of inbound marketing for simultaneous growth in domestic and export markets.
"This is the key to real export success for companies," says Ed Marsh, Consilium's Founder. "The export market opportunity for US manufacturers is absolutely enormous."
B2B manufacturing companies traditionally view their website as a credibility tool and online brochure which supports the classic lead generation and project creation efforts of a direct sales team. But inbound marketing creates a powerful lead-generation engine from companies' websites - and the World Wide Web allows them to simultaneously develop leads and customers in international markets while powering domestic growth as well.
"There are more mobile phones than toothbrushes in the world - and many are connected to the internet. So the 95% of the world's buyers that live outside the US are using the web to find new products and services - and they love 'Made in USA' products." Marsh explains, "As a HubSpot partner agency we help B2B companies create qualified leads for profitable buyers anywhere. As Export and global business experts we help them sell profitably."
The adjacency of global internet growth and increased globalization / reduced export barriers creates a historically unique opportunity for companies to grow globally. And structuring inbound marketing properly can largely eliminate the largest traditional barrier to export success - the long, expensive, demanding ramp-up that was required to launch. At the same time barriers to international transactions are rapidly decreasing and with a bit of savvy and advanced planning companies can safely and simply sell globally.
This new eBook outlines in detail how the combination of inbound marketing and export commitment open up this large new opportunity. It provides some actionable recommendations for how mid-sized manufacturing companies can grow their B2B revenue domestically and internationally. It is available for download at http://strategy.consiliumglobalbusinessadvisors.com/profitable-global-growth-for-b2b-companies-digital-marketing-and-simplified-export-sales __download__