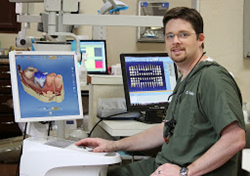 'Are we a good fit for your smile? Watch our video to find out.' - Michael J. Wallace, DDS
Edmond, OK (PRWEB) August 20, 2014
A lot of patients seem shocked when Teresa or Kara has to deliver the news that maybe their dental hygiene hasn't been the best over the year and as a result of that, the patient has developed periodontal disease. In truth, periodontal disease is not uncommon. What is periodontal disease? (Also referred to as gingivitis) While gingivitis is an early indicator of periodontal disease, it is in fact periodontal disease. How many people have gums that bleed when they floss or brush, tender gums, a change in bite or teeth that seems subtle enough to ignore until it is too late. The mouth is filled with bacteria, countless bacteria. Plaque will build up in the mouth and on the teeth and left untreated can rapidly produce toxins and enzymes that cause inflammation and irritation to the gums. This will in turn cause damage to the healthy tissue and bone that supports a tooth.
There are many determining factors to detect if someone may have beginning or even advanced stages of periodontal disease. Ask these simple questions.
1. Do I smoke or chew tobacco?
2. Do I have a systemic disease, such as diabetes?
3. Am I on any steroids, cancer therapy drugs or blood pressure medication?
4. Am I pregnant or on hormones?
5. Are my gums red, swollen, tender and bleeding?
Believe it or not, these are ALL contributing factors to periodontal disease – not just lack of brushing for 2 minutes twice per day and flossing regularly. It cannot be stressed enough how important it is to keep up with preventative dental care. The result of not properly treating even the mildest form of periodontal disease can be as simple as a "deep teeth cleaning" here in the office but can be as extreme as gum grafting surgery (yes, as in skin graft) or tooth loss. With the busy schedules everyone keeps, it can be hard to find the time to have the proper dental exams and routine care. Knowing this, it still needs to be a priority to keep periodontal disease as bay.
To read other articles please visit the website - http://www.mikewallacedds.com/.
To learn more about periodontal disease, please visit - http://www.perio.org/consumer/gum-disease.htm/.
Michael J. Wallace, DDS – Edmond Dentist