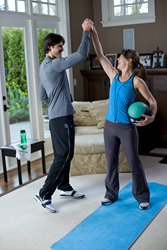 Edmonton (PRWEB) June 25, 2014
Fitness on the Go in-home personal trainer s deliver fitness to your home, which now includes Edmonton along with all major cities in Canada. Their certified personal trainers have been delivering fitness to clients in Alberta since 2012, but have recently expanded into Edmonton as of June 2014. Fitness on the Go is a Canadian owned in-home fitness and personal training company that is dedicated to helping communities achieve a healthier and fitter lifestyle.
Fitness on the Go makes exercise easy and accessible by bringing an individualized program and a qualified in-home personal trainer Edmonton to a client's home. They understand that in today's society, schedules are busy, children's activities come first, and gyms can be crowded, intimidating and unfriendly. Their Edmonton personal trainer will work with the client's schedule to ensure they get a workout when it is convenient for them.
Fitness on the Go will not only come to a client's home to help them get fit, but will work with them to develop a customized fitness plan that will help you reach their goals. No equipment is needed — the only requirements are some floor space, 60 minutes, and a positive attitude.
For more information, please visit fitnessonthego.ca.