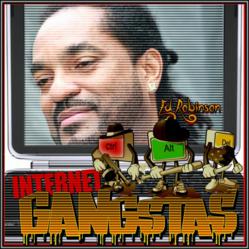 A true reggae ambassador - Dj Kevy Kev - DaFlava Radio
New York City, NY (PRWEB) July 02, 2013
Talented reggae crooner, songwriter, and music producer, Ed Robinson, releases a new single, "Internet Gangstas."
"Internet Gangstas" was written by Robinson and originally produced by the top Jamaican reggae and dancehall producers, Jemoi Montieth and Clevie Browne. Over the years, Robinson found himself becoming a key player in the diverse genres of Reggae, Rock, Soul, Hip Hop, and R & B. His tremendous production talent has found him at work with industry greats like Luciano, Maxi Priest, Buju Banton, Shabba Ranks, Super Cat, and Snoop Dogg, just to name a few.
Robinson released his fifth album, titled Written In Stone, in 2012. The album boasts the tribute single "Our Heroes," which quickly became an anthem on Caribbean radio programs in the southeast, New York, Europe, and the Islands. The 15 track album also include songs like "Baby I Love Ya," "You're Special," "Cry No More," "Talking Blues," "Cyberspace Girl," and a moving cover version of the Dennis Brown classic "If I Follow My Heart."
Robinson has found a place in the hearts of reggae lovers globally. One of the more sought–after entertainers in the Reggae music industry, Robinson has graced the stages of Reggae Sunsplash-Jamaica, Mexico Sunsplash, Reggae on the River, Ragga Muffin Festival, and just recently completed a successful tour in Germany. His most recent singles include "If I Had The World," "How Could You," and his latest release "Internet Gangstas," which is available now on iTunes. Robinson is currently working on several projects for E2 Recordings and Push Broom Gang Productions Inc., and is set to release a new album this fall.
"Internet Gangstas" can be purchased on iTunes here: https://itunes.apple.com/us/album/internet-gangstas-single/id664786899
If you have any questions, comments or would like to set up an interview please contact Melissa Zeigler: melissa(at)powderfingerpromo(dot)com
Powderfinger Promotions–Independent Radio Promotion and Publicity. Since being founded in October 1994, Powderfinger has come to be regarded as a top indie radio promotion and publicity firm with ties across North America.