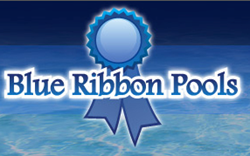 Knowledge of local and New York State regulations can prevent headaches when installing a new pool.
Commack, New York (PRWEB) December 17, 2013
Blue Ribbon Pools, the premier provider of custom pool installation and service to the Suffolk and Nassau Communities, is advising Long Island residents to learn about all of the local and state regulations that must be followed to install and maintain a residential pool.
Each year more and more laws and regulations go on the books at both local and state level, governing activities in everyday life that our elected officials have deemed necessary. Over the last decade, these have included laws and regulations governing not only the installation of a pool at a private residence but also governing all of the necessary safety precautions that need to be in place to protect people and especially children who might gain access to the pool area.
While companies like Blue Ribbon Pools have to stay up to date on all of the laws and regulations that have direct effect on their businesses, homeowners who are contemplating buying and installing a pool should educate themselves prior to starting work so that they can avoid costly delays and penalties in the event that their pool installation does not meet code. The team at Blue Ribbon Pools is more than happy to answer any questions homeowners have and they will review with homeowners all of the local regulations that govern the area where a new installation will be built.
Additionally, Blue Ribbon Pools encourages homeowners to educate themselves and keep educating themselves after a pool is installed to ensure that while they are enjoying the private luxury of their own pool they are always in compliance with new laws and regulations that may come on the books after the pool is installed. As the Blue Ribbon Pools team likes to remind their clients, ignorance of a law or regulation is no excuse and will not prevent a fine being levied.
Blue Ribbon Pools is the premier customer pool design and installation company on Long Island. Along with new pool installations, Blue Ribbon Pools can also renovate existing pools, replace linings and install covers as well. For customers who want a custom pool for their backyard, Blue Ribbon can not only work to design and install pools but also custom water features to further enhance the overall installation. Among the water features that can be added are water falls, streams, ponds and sheer descents to name a few. Serving all parts of Suffolk and Nassau Counties, please feel free to call 888-FIX-POOL for a free estimate or visit our website at http://www.longislandpoolsltd.com.