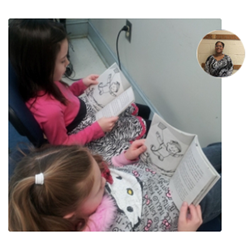 It's crucial that all the children in our community have every opportunity to learn about the world and to experience local history, which is why funding this field trip is so important
Elizabeth City, NC (PRWEB) February 22, 2016
Shield Insurance Services, a North Carolina-based insurance firm with offices serving Pasquotank County and the surrounding regions, is launching a charity drive to provide underprivileged students attending Pasquotank Elementary School with a once in a lifetime adventure.
Ms. Bartlett is a teacher at Pasquotank Elementary School, and wants to take her students on a field trip to Jockey's Ridge and the Wright Brothers memorial. Unfortunately, many students attending Pasquotank Elementary are from low income families. "Most of my students have never seen the ocean or sand. They don't know what a memorial is," says Ms. Bartlett. "I want to help them have a priceless experience."
"It's crucial that all the children in our community have every opportunity to learn about the world and to experience local history, which is why funding this field trip is so important," says Scott Dashiell, owner and manager of Shield Insurance Services.
With the help of his team, Dashiell is establishing an online social media presence and sending out a community email bulletin to notify families of the charity effort. Further publicity efforts will include a full page feature of the Pasquotank Elementary charity drive in the upcoming issue of "Our Hometown," a monthly Internet magazine published by Shield Insurance: http://www.shieldinsuranceservice.com/Our-Hometown-Magazine_41.
Moreover, Dashiell and the Shield Insurance team have committed to a permanent charity involvement program that will see the firm working with at least one new North Carolina non-profit every 60 days for the foreseeable future.
Those who want to join Dashiell and the Shield Insurance team in their support of the Pasquotank Elementary outing are encouraged to stop by the firm's website and make a contribution to the effort from this page: http://www.shieldinsuranceservice.com/Sending-Elementary-Students-On-A-Wonderful-Adventure-_19_community_cause. Those who want more details concerning the other North Carolina charities supported by the Shield team can review their Community Cause listing here: http://www.shieldinsuranceservice.com/community-cause.
About Shield Insurance Services
As a family owned company, Shield Insurance Services specializes in taking the mystery out of insurance and providing no-nonsense, real-world financial solutions to families and business owners in and around Elizabeth City, NC. Whether you need assistance managing long term financial goals, understanding investments or annuities, or mapping out your insurance needs in a rapidly changing economy, the experts at Shield Insurance Services are ready and waiting to give you the information you need to make the right choice. To speak to a helpful and knowledgeable representative from Shield Insurance Services, browse to http://www.shieldinsuranceservice.com/ or call (252) 338-5821.