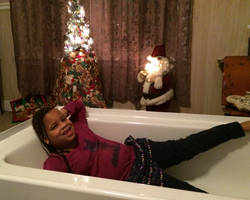 We were probably the only family in the nation that was so happy to have a bathtub under our Christmas tree.
Lawrenceville, NJ (PRWEB) April 12, 2016
Noto Insurance Advisors has been working with a number of local businesses in a combined charity drive to assist a single mother and her young daughter in overcoming a series of hardships. It is truly a heart-warming story. When Allison's ceiling collapsed, she and her daughter had nowhere to turn. Even Allison's partner left. Allison turned to John Noto for support, and she never expected to receive the level of assistance he and his business partners provided.
"John and his business partners are angels from heaven. I've never come across people so kind and honestly it makes me want to become a better person. You know what's funny? My daughter and I were probably the only family in the U.S. that were so happy to have a new bathtub under our Christmas tree," said Allison as her daughter stared up at hear tearful eyes.
When John heard Allison's story, he called his Concierge Members, a group of small business owners, with a passionate idea to give back. Long time business owner of Lawrenceville Fuel, Gary Hullfish, supplied the labor to install a new bathtub and shower. Zack Van Aken, owner of ZVA Construction, repaired the walls and ceiling in her dinning room. Carlos Vitale, owner of Vitale Inspection Services, performed a complimentary home inspection. ServePro of Bordentown/Pemberton provided a complimentary analysis and the material to keep the home insulated from the cold. Julian Craig, owner of J. Craig Flooring, donated and installed the flooring for the new bathroom and Joe Craporotta of 1st rate Construction finished the walls of the bathroom. To learn more about the Concierge Members that supported this cause, visit: http://www.notoinsuranceadvisors.com/concierge.php?command=search&name=What+do+you+want+to+find+%3F+&category=&state=&x=127&y=16
John had a few words to share about his experience with Allison and her daughter. "Allison keeps thanking me and our concierge partners. She says things like, 'You guys are my heroes.' But we are truly blessed for the chance to get to know Allison and Ramona. When Allison adopted Ramona, she was very aware that Ramona would have medical challenges. Ramona's birth mom was addicted to crack during her pregnancy. Allison volunteered to dedicate her life to this beautiful child. How many people do you know who would do that? When you listen Allison talk, she doesn't complain about her finances or the problems with her house or the fact that her life for the last nine years has been dedicated to a little girl who needed a mom. On the contrary, she speaks of her blessings and how fortunate she is for having Ramona. She is so inspirational! Unfortunately, we live in a throw-away society where so many people feel a child is a burden. Allison and Ramona are a testament that all life is precious and they remind us that being with family we love is far more important that material possessions and modern conveniences. Thank you Allison and thank you Ramona for reminding us of what's really important. You guys are my heroes!"
With the help of their business partners, the Noto Insurance Advisors were able to provide this wonderful family with $1000, a livable residence and more. For a full list of those that made this charity drive so successful, visit: http://www.notoinsuranceadvisors.com/Rebuilding-A-Home-Lifting-Spirits_20_community_cause
Readers who want to know more about other local charities supported by Noto Insurance Advisors can view the Noto Community Causes list here: http://www.notoinsuranceadvisors.com/community-cause.
About Noto Insurance And Concierge Members
Noto Insurance Advisors and their Concierge Members have joined the Agents of Change movement. Every 60-90 days, they join forces to advocate for a family in need, or non-profit organization to support. Whether it's raising funds to reunite a foster child with her siblings after being separated or rebuilding a home, their good deeds know no bounds. To learn more about Team Noto and the agency's Concierge Members, click here: http://www.notoinsuranceadvisors.com/community-cause or call 609-895-8450.