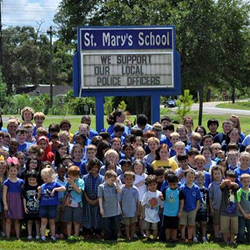 St. Mary's is an integral part of the Orange community, and this charity drive will help make sure they are able to continue their mission of providing ethical, principled education to our children
Orange, TX (PRWEB) February 17, 2016
The Liz Hogan Agency, a local insurance firm that provides coverage for hundreds of businesses and families throughout eastern Texas, is initiating a charity drive to support St. Mary's, a local Catholic school that enrolls grade a middle schoolers in Orange County.
Since October of 1924, St, Mary's Catholic School has been a constant source of ethical education and strong positive leadership for students and parents in Orange. The school is dedicated to improving outcomes for children of all backgrounds and learning levels, and to assisting the local community through organized charitable action and volunteer effort.
"St. Mary's is an integral part of the Orange community, and this charity drive will help make sure they are able to continue their mission of providing ethical, principled education to our children," says Liz Hogan, founder and manager of the Liz Hogan Agency.
Working with community and educational leaders in the area, Hogan and her team are constructing a social media forum and utilizing an email awareness program to publicize the charity effort. As well, the Liz Hogan Agency will produce a full page feature of the St. Mary's charity drive in an upcoming issue of the firm's online magazine "Our Hometown": http://lizhoganagency.com/Our-Hometown-Magazine_41.
In addition to the present charity drive benefitting St. Mary's Catholic School, Hogan and her team have undertaken several other charity efforts over recent months, and plan to work with another new Texas charity every 60 days from here forward.
Readers who want to join the Hogan Agency in their support of St. Mary's can make a personal contribution to the cause from this page: http://www.lizhoganagency.com/Raising-Funds-For-St-Mary's-Catholic-School_17_community_cause. Readers who want to review the other Texas charities and causes supported by Hogan and her team can review the firm's Community Causes list here: http://www.lizhoganagency.com/community-cause.
About The Liz Hogan Agency
Agency owner Liz Hogan knows many local families. Her knowledge and understanding of the people in her community help Liz to provide her customers with an outstanding level of service. Liz and her team look forward to helping families protect the things which are most important to them - family, home, car and more. They can also help clients prepare a strategy to achieve their financial goals. To contact a caring and knowledgeable expert at the Liz Hogan Agency, please visit http://www.lizhoganagency.com/ or call (409) 886-8860.