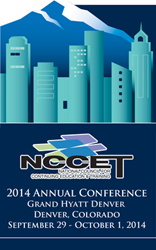 World Education.net provides revenue-generating online courses, and turn-key account management services to its partners
Arlington, TX (PRWEB) September 23, 2014
World Education.net is proud to announce that it will be among the exhibitors at the 2014 National Council for Continuing Education and Training (NCCET) conference, being held in Denver from September 29 through October 1.
The NCCET annual conference offers a variety of workshops focused on providing educators and continuing education professionals with timely information to help them stay up to date on new trends, build and maintain their professional networks, and explore the latest leading-edge continuing education programs and providers from around the country.
As one of the nation's leading providers of online certificate programs, World Education.net is dedicated to offering the online career training courses and job development services students need in order to succeed in today's increasingly competitive marketplace.
The company currently offers over 200 high quality certificate courses in a broad range of career fields, including IT, business, healthcare, sustainability, hospitality, and skilled trades. All courses are offered through accredited colleges and universities.
In addition to revenue-generating online course content, World Education.net provides its partners with integrated services including an easy, secure online registration process and a wide range of highly responsive account management services.
The majority of courses can be completed in 12 months or less, and many offer externships opportunities, which provide students with valuable hands-on experience.
World Education.net also offers a variety of innovative student services and financial assistance programs to make its career training programs more affordable. The company recently began offering a new low-interest tuition assistance program, which requires a very manageable 10% down payment and a nominal interest rate of just 9.9%.
MyCAA tuition assistance for qualified military spouses is also available through approved partner schools, including the University of Alabama, the University of Oklahoma and San Diego State University.
Attending the annual NCCET conference on behalf of World Education.net will be Strategic Account Manager Connie Smith, and Director of Social Media and Marketing Kelly Fuhlman. Attendees are invited to visit with Connie and Kelly to learn more and register for a chance to win a $100 Amazon gift card.
The NCCET conference will be held at the Grand Hyatt Denver in Denver, CO. The Keynote address, "An Educator's Guide to the Future" will be given by futurist David Zach.
Please click here for additional information and to register for the conference.
About NCCET
Founded in 1969, the National Council for Continuing Education & Training (NCCET) is committed to providing its members with benefits that keep them up to date on new trends, help maintain a personal and professional network, and give access to the latest leading-edge programs throughout the country.
Please visit http://www.nccet.org to learn more.
About World Educaiton.net
World Education.net is an Arlington, TX-based provider of online certificate courses. Founded by eLearning visionary Stephen Gatlin, the company has experienced exponential growth in 2014 through new partnerships with some of the country's premiere colleges and universities. The company's current course catalog includes over 200 titles in today's in-demand career fields.
Please visit http://www.worldeducation.net to learn more.