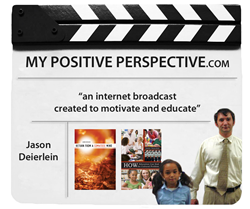 Nelson Mandela lived a life of positive behavior when the human spirit would have been demoralized.
Charleston, SC (PRWEB) March 25, 2014
On March 24, 2014, My Positive Perspective aired an episode that discussed and remembered the life of Nelson Mandela. My Positive Perspective host Jason Deierlein was joined on the episode by Thomas Wilson. Wilson has appeared previously to discuss the importance of education and mentorship of our youth. Deierlein begins the episode by saying, "In today's episode we are going to remember a man whose beliefs and behaviors illustrate positivity." Deierlein then turns to Wilson and asks, "As an African American what things do you take away from the life of Nelson Mandela?"
Wilson responds by saying, "Mandela stood for the equality for all and I think that is huge for me being of the same race. Showing that you fight for what you believe is right and with perseverance and due time beautiful things do come to fruition." Deierlein then adds, "Mandela showed positivity in a situation where the human spirit would be demoralized. The normal person may have used violence and intense anger in that situation, however much to his credit; Mandela did not stoop to this level."
Wilson concludes, "I admire the fact that he didn't fight racism with racism. In his sabotage trial in 1963, Mandela said I have fought white domination and black domination. Mandela knew everyone had to come together as a whole." Deierlein then adds, "There are few people who have lived lives that truly changed how the world is run and Mandela lived one of those honorable lives."
My Positive Perspective is a media outlet believing that improvement in our community will be best achieved by focusing on the good things happening in our world today. Having survived a near fatal car accident as a youth, a shift of perception forced one to have a mentality of always concentrating on the brighter sides of things. This was true, and in my book, Return From a Comatose Mind, this belief was put to the test. Appreciation for life was the biggest thing one took away from my brush with death, and it is because of that gives me such a huge desire to be helpful to many. My Positive Perspective is a way of overcoming challenges through positive thinking.