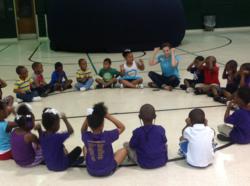 Fort Worth, TX (PRWEB) July 05, 2013
On June 20, 2013, Educational First Steps hosted its Community Partner the Perot Museum's Portable Universe for an enrichment opportunity in the gymnasium of the Resource Connection in Fort Worth. 30 students from EFS-Assisted Centers in Tarrant County participated in the program entitled "One World, One Sky." The program is specifically designed for pre-Kindergarten children and, according to the Perot Museum, "the imaginary journey allows students to discover that no matter where we may live on Earth, we are all connected under the same sky."
During an educational movie, the children sat under hundreds of stars beneath the planetarium sky as Big Bird, Elmo and Hu Hu Zhu took them on a trip to the moon and taught them about the sun, moon and stars. The Sesame Street characters pointed out shapes in the sky and taught the children about the the Big Dipper and North Star. The children were then able to interact with the exhibit during a program that followed the film.
EFS Tarrant County Director Kym Shaw said she expects over 50 more children to attend a second enrichment opportunity also featuring "One World, One Sky" on June 28. EFS thanks the Perot Museum for joining us in the effort to make quality education available to economically disadvantaged children by facilitating these excellent opportunities.
Educational First Steps served 465 children in 7 centers in Tarrant County in 2012-2013 and will be expanding to 12 centers during 2013-14. For more information, contact Kym Shaw at 817-535-0044.