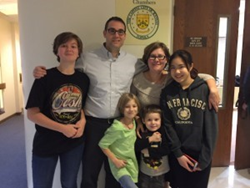 The goal for ETC is a true cultural exchange that makes a difference in people's lives. True to that mission, our lives have been forever changed for the better.
(PRWEB) July 20, 2016
It's that time of year again, when exchange students from all over the world make their way to the U.S. to experience a new culture, practice English and become a part of a new family. They're nervous, excited and are overwhelmed with emotion as they prepare for a new adventure. Soon they will be united with their new host families and the fears of living in a strange land will start to dissipate as they see their personalized "Welcome to America" signs. Their dreams have finally materialized and they are overcome with joy as they begin a journey of a lifetime.
Education, Travel & Culture's (ETC) cross-cultural exchange program places high school students from 15 different countries with families for a semester or school year. This year's students, chosen from thousands of applicants, will arrive in the beginning of August and will attend the host family's local high school. Each student speaks English, has their own spending money and are covered by full medical insurance.
Families across the U.S. have an opportunity to host this year and become part of an international family comprised of millions of host families and students who have participated in student exchange programs. Host families provide their student with a bed, a place to study, three meals per day and provide students with a window in which to view and understand American life and culture. Students become a member of the family as they participate in family activities and chores, bond with their host siblings, and join in family conversations.
Kansas Host Mom, Kimberly Daugherty shares her thoughts on hosting: "I have always felt that families are not born but instead formed. Now my family is international and I am grateful we took the leap and decided to host students. These ladies may cross oceans to get back home but they will always have a place in our hearts."
Hosting an exchange student is an opportunity of a lifetime for both the host family and the student and there are countless reasons why host families continue to host year after year, but here are the top 4 reasons:

You'll learn about a different culture: You and your family will gain a new perspective and understanding of other cultures and your children will increase their cultural awareness.
You'll get to be your hometown tourist: You'll see your community in a whole new light and might even learn something new about your own city and state.
You'll gain a friend for life: Our students and volunteer host families remain friends for years and even travel to the student's home country to visit.
You'll have fun: This is a win-win situation. It's fun getting to know someone new and it's exciting to watch your children flourish in a new environment.
What sets ETC apart from other exchange programs?
"ETC is not concerned with prestige or themselves. The goal for ETC is a true cultural exchange that makes a difference in people's lives. True to that mission, our lives have been forever changed for the better. Thank you ETC." - Arizona Host Parents, Marilyn and John Curiel
About Education, Travel & Culture:
Education Travel & Culture is a non-profit [501(c)(3)] educational exchange organization. Its purpose is to promote international understanding and goodwill by providing high quality educational and cultural exchange programs in the United States and abroad. ETC provides inbound program opportunities for high school students throughout the world to study in an American high school and live with an American family.
For more information, FAQs or to get started go to http://www.edutrav.org or email Field Director, Brenda Ferland at bferland@edutrav.org