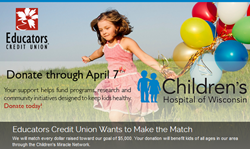 Using a Facebook App and social media to support Children's Hospital of Wisconsin and CMNH was an easy decision.
WI (PRWEB) March 20, 2014
A dollar is a dollar, except for when it's $2. Educators Credit Union knows the value of a dollar, and how dollars can sometimes stack up against families whose children need medical care. Which is why ECU used a social media app to launch a new dollar-for-dollar match campaign to raise funds for Children's Hospital of Wisconsin - a Children's Miracle Network Hospital.
The Wisconsin-based credit union is a long-time partner and supporter of the CMNH, but this is the first cause marketing campaign that ECU is running on social media. Through April 7th, ECU will be tapping into the power of Facebook and Twitter to raise a record-breaking amount of donations for its local hospital.
Fans and followers of Educators Credit Union can simply visit their Facebook page to donate any amount to the cause, and watch ECU's virtual goal thermometer climb closer to their goal. For every dollar that people donate will be matched by ECU - helping your donation go twice as far to help kids and their families.
For their inaugural online fundraising campaign, ECU is using the Make The Match App from CafeGive Social - a cause marketing apps and solutions company. Using the app, supporters can not only donate to the cause, but also use the built-in social media sharing features to easily share the campaign with their Facebook and Twitter friends and followers.
This way, a former Wisconsinite living in Arizona could hear about the campaign through a Facebook friend, and donate to the cause. By using social media, ECU extends their reach and impact for the campaign as well as for Children's Hospital of Wisconsin.
Per Rick Katschke, Social Media Coordinator at ECU, using a Facebook App and social media to support Children's Hospital of Wisconsin and CMNH was an easy decision. "We really appreciate the efforts that they make in the community. A lot ECU's members grew up having gone to Children's Hospital of Wisconsin, and whose children go there." The great thing about the campaign, said Rick, is that donations don't just benefit children at the hospital, but go to support outreach and advocacy programs that work to spread valuable health information and ensure safe environments for all kids.
To encourage people to donate and share the campaign, Educators Credit Union will be giving away highly coveted tickets to SummerFest each week. Everyone who donates will be entered into a weekly drawing, and every Wednesday until the end of the campaign, ECU will hold a random drawing for the winners.
The matching campaign also has an on-the-ground component. People who can't donate online, or who want to donate again to the cause, can do so in person in any ECU branch. The app is also hosted on Educators Credit Union's website in addition to their Facebook, giving people additional opportunities to see and donate to the campaign. Visitors to the site can simply click the "Donate" icon to get started.
"'Community' is one of our core values, so we have a great admiration for the work that Children's Hospital of Wisconsin does for the kids of our state," said Rick. ECU aims to continue their tradition of local impact with this dollar-for-dollar match campaign, while engaging more donors than ever before.
About Educators Credit Union:
Educators Credit Union is a not-for-profit financial institution serving more than 115,000 members in southeastern Wisconsin. Educators membership is open to anyone who has attended school in southeastern Wisconsin as well as education, healthcare and government related employees and their families. Educators is committed to helping build strong communities and making a positive difference where we live and work. To learn more, visit http://www.ecu.com.
About CafeGive Social
CafeGive Social is the only company that combines social media marketing with meaningful, action-oriented cause marketing applications and solutions. Our products and services have helped companies, agencies and nonprofits of all sizes connect with customers to build brand, enhance reputation, raise awareness and effect social change. Headquartered in Portland, Oregon, CafeGive Social is a privately held company. For more information, visit http://www.cafegive.com.