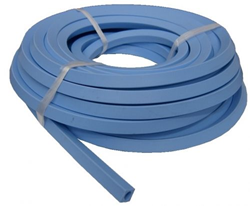 The improvements to strength, durability and longevity are particularly important, as they make it a far more cost effective product
(PRWEB UK) 16 February 2015
A new kind of square rubber tubing, recently developed by the International Scientific Group (ISG) and its partners and available from scientific resource specialists Edulab, offers improvements both to cost efficiency within the laboratory and to practical aspects of everyday laboratory work.
The new tubing, designed for use with water, LPG or Natural gas, is made from blended polymers which creates an inert, odourless material that will not adversely influence experiment results. The material is not affected by UV rays, thus eliminating the issue of perishing, and the square form prevents kinking as well as allowing the tubing to rest flat on the bench. Internally, the tubing has a smooth bore which creates a better and more predictable flow of both gas and water.
A spokesperson for Edulab said; "The square tubing has already proved to be very popular with our clients, as it offers so many improvements over the familiar orange rubber tubing that has been used in laboratories for years. The improvements to strength, durability and longevity are particularly important, as they make it a far more cost effective product. This is a vital consideration for many of our education sector clients, as their budgets must naturally be managed particularly carefully, and cost efficiency improvements in laboratory consumables can have a significant effect."
Customers who have already upgraded to the new tubing have praised it highly, with reviews calling it an amazing and revolutionary product and stating that it "Feels better, looks better, smells better" than the standard alternative, as well as praising its durability and aesthetic characteristics.
Edulab are global leaders in the scientific resource industry, offering the most extensive range of laboratory equipment and services available. Their Curriculum Think Tank service monitors changes in exam board and curriculum specification to ensure that they can always provide the appropriate equipment to their customers. With over three thousand items in stock, from basic laboratory consumables and furniture to precision equipment, they distribute to a wide range of clients both in the UK and internationally.
For more information on Edulab and their range of laboratory equipment and consumables, please visit their website at http://www.edulab.com.