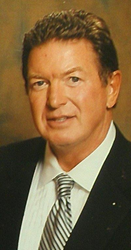 "Life insurance ensures your loved ones are provided for in the event of your demise.
Franklin, TN (PRWEB) March 31, 2016
According to numerous financial advisers, people who own homes and/or have dependents require life insurance for many reasons. "If you have a family, especially, life insurance is a must," said Ed Underwood, who has over 36 years' experience as a State Farm Agent. "Life insurance ensures your loved ones are provided for in the event of your demise."
For those who don't have life insurance, Underwood lists the top three reasons to obtain coverage.
No. 1: Death benefits. "This helps replace income lost after your death that your family has come to depend on for its survival," said Underwood. "It could be used to continue paying the mortgage on a house, pay for your children's college education or any number of things needed to keep a household together."
No. 2: Funeral expenses. Life insurance can also help defray the cost of a funeral. Underwood stresses that people considering life insurance always keep in mind the costs associated with funerals, which loved ones shouldn't have to incur. According to the National Funeral Directors Association, the average total cost of a funeral with burial services is between $7,000 and $10,000, while the average cremation costs between $2,000 and $4,000.
No. 3: Peace of mind. "You never know when it's your time to go, whether from an accident, unexpected illness or natural causes," said Underwood. "However, if you have life insurance, you guarantee that the people you leave behind are taken care of. In fact, it is one of the few guarantees in life."
About Ed Underwood, State Farm Agent
State Farm has been offering life insurance since 1929. In addition to life insurance, State Farm Agent Ed Underwood offers auto insurance, home and property insurance, health insurance, banking products and annuities. For more information, please call (615) 771-0700, or visit http://www.edunderwood.net. The office is located at 206B Cool Springs Blvd., Suite 208, Franklin, TN 37067.
About the NALA™
The NALA offers small and medium-sized businesses effective ways to reach customers in the digital age, while providing a single-agency source that helps them flourish in their local community. The NALA offers its clients an array of marketing tools from press release campaigns and social media management to a cause marketing program. The NALA's mission is to make businesses relevant and newsworthy, both online and through traditional media, by providing increased exposure at reasonable costs. For media inquiries, please call 805.650.6121, ext. 361.