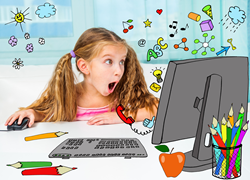 Combining entertainment with instruction is a powerful technique for teaching a wide variety of subjects
Espoo, Finland (PRWEB) February 25, 2014
eduXtive recently launched a new website with complimentary online learning games at http://games.eduxtive.com. The new site already has more than 400 handpicked games suitable for use at schools or in homes, with new games added daily. Teachers at K-12 schools find that online games make it easier for students to learn because they can have fun while enhancing their educational experiences. Children learn basic computer skills along with math, reading, spelling and additional subjects when they play interactive math games and other primary games online.
Teachers, parents or children can search the games.eduxtive.com site by category, popularity, age level or subject matter and use the games as learning tools or as entertainment. The site features primary games that teach about nature, animals, letters, shapes, colors, vocabulary, numbers, art and basic subjects. Math games include education in addition, subtraction, multiplication, division, algebra and other related topics. There are games that help improve memory and concentration as well as games that teach about strategy and equations. Kids can learn about science, history, geography, music and rhythm on the site. Games concerning food and cooking, counting money and improving keyboard and typing skills provide valuable lessons for everyone. Adults may even enjoy some of the games like typing lessons, memory games and concentration games.
Managing Director Hannu Sehm stated, "Games.eduxtive.com is committed to providing a cost-free, exciting and effective method of education for children. Combining entertainment with instruction is a powerful technique for teaching a wide variety of subjects. The company offers hundreds of interactive games in a safe, secure online environment with no fees or obligations. Each game on the site teaches children new skills or strengthens their previously acquired knowledge while providing an enjoyable learning experience. Teachers can take advantage of our free online games and receive their valuable benefits without being concerned about school budgets."
About eduXtive Games
eduXtive is a Finnish consultation company providing consultation about education software and learning by games.
Children of all ages learn more quickly and retain information more efficiently when they enjoy the learning process. Teaching can be more effective when educators use free online games to make learning fun for their students. The games.eduxtive.com site is easy to navigate, and many children can participate in the games without requiring help from adults. Online primary games, math games and other educational games can help children have successful learning experiences, and increased self-confidence may be a result as kids improve their knowledge and skills.
For more information, contact Hannu Sehm, eduXtive, Finland, at press(at)eduxtive(dot)com.