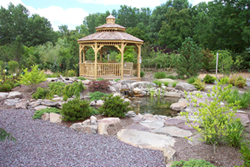 Owner Edward Kopec promises that this open house event will be a great time for the entire family.
Forty Fort, PA (PRWEB) June 19, 2014
Edward's Landscaping and Garden center will hold their last open house event for the season on Saturday June 21 at the garden center in Forty Fort.
Open house begins at 7 a.m. and will run through 4 p.m. There is no fee for admission or for parking.
Similar to the event in May, owner Edward Kopec promises that this open house event will be a great time for the entire family.
This open house will feature sales on perennials and fruit trees. Customers who purchase any perennials will get to take one home for free. All fruit trees and blueberry bushes will be 30% off.
Beginning at 12 p.m., local up-and-coming country singer Dani-Elle Kleha will be performing some of her most popular songs. She will also be happy to sign autographs and take photos with fans.
Dani-Elle Kleha's performance during the Christmas celebration and at the open house in May was a huge hit. This is a performance everyone should attend.
Children enjoy visiting Edward's Garden Center all season long because they can take part in an animal scavenger hunt. The scavenger hunt will be stocked with prizes for open house.
Members of the Blue Chip Farms Animal Rescue from Dallas will be at the open house answering questions about pet adoptions and showing a few dogs.
Children will also be able to have their face painted by Jessica from Face Painting by Jessica. She is very excited to be at the event and paint whatever the kids can think of. Money made from the face painting will be donated to Blue Chip Farms Animal Rescue.
Light refreshments will be available for free throughout the day and as always, master gardens will available to answer all questions.
The garden center is located at the end of River St. in Forty Fort.
About Edward's Garden Center
Edward's Landscaping and Garden Center has been serving customers in Northeastern Pennsylvanian since 1978. The Garden Center offers the best quality trees, plants, flowers and materials, as well as expert advice for all outdoor products. Edward's Landscaping service specializes in water feature installations, hardscaping, yard maintenance and night lighting.
For the Garden Center hours and more information, visit: edwardsgardencenter.com.
Edward's Landscaping & Garden Center
525 River St
Forty Fort, PA 18704
(570) 287-4329
EdwardsGardenCenter.com
edwardsgardenctr(at)epix(dot)net