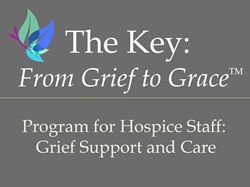 "If not now, when? We are at the precipice of an ever-changing health care initiative." -Edy Nathan, MA, LCSW
New York, NY (PRWEB) March 12, 2014
New York City-based grief expert, Edy Nathan, today announced the release of a new wellness program specifically tailored for helping hospice organizations combat the rising costs of ill health and aid hospice employees worldwide.
The Key: From Grief to Grace™ is a 3-month interactive program designed to teach the skills necessary for hospice employees – from LPNs to upper management – cope with exhaustion, compassion fatigue, burnout and grief. The result is an emotional balance that counteracts the detrimental effects of these stressors.
Employee wellness is at the forefront of the challenges faced by businesses and especially in the hospital and hospice settings. People who are brave enough to work on the frontlines to help people manage their end-of-life issues, while also assisting the family with their stressors, are at the greatest risk for illness themselves. The majority of hospice care staff, including upper management, are dealing with grief, compassion fatigue, stress, anxiety, burnout and a host of other emotional traumas. These issues quickly turn into absenteeism, ill-health and employee turnover, costing the business of hospice thousands of dollars per employee each year.
Employers are still in the dark about how much the rising cost of employee health is affecting them. According to the Center for Disease Control, a vast number of employers are unaware of the extent of the correlation between health and productivity. They may understand that investing in their employee base ultimately boosts the bottom line, but many are just beginning to grasp the level of impact. The CDC further explains that the indirect costs of poor health may be several times higher than direct medical expenses, amounting to over $225 billion annually in productivity losses for U.S. employers. When businesses invest in employees' health, studies show they stand to gain a $3.50 to $1 savings-to-cost ratio while reducing health costs, workers comp claims and sick leave by at least 25%.
Edy Nathan has formulated The Key: From Grief to Grace™ with this in mind. This innovative and interactive program is the solution for to helping hospice organizations slow employee turnover while increasing productivity.
The Key: From Grief to Grace™ navigates the staff through rough waters by helping them learn:

Relationship management: Identifying how various relationships are affected by care-giving
Self-soothing: Coping with trauma, stress and anxiety
Emotional intelligence: Avoiding and overcoming compassion fatigue, cynicism and burnout.
Awareness of unrecognized symptoms of compassion fatigue and burnout
"If not now, when? We are at a precipice of an ever-changing health care initiative," reports Nathan. "As baby boomers are aging, it is imperative that we give professionals, who are in the trenches of caring for the dying, from upper management to nursing, the knowledge to be the best they can be so they can give the best of themselves in the work place."
More information about The Key: From Grief to Grace™ is available at http://www.edynathan.com.