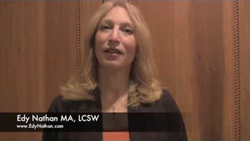 "Reach out to support systems, attend groups, and understand that grief is an individual process." -Edy Nathan, MA, LCSW
New York, NY (PRWEB) March 13, 2014
Foremost grief expert and therapist Edy Nathan, MA, LCSW, today announced the release of her new piece, "From Helpless to Helpful: 10 Do's and Don'ts for Grieving Children." The article provides practical guidance for adults as they help children navigate the difficult process of grieving.
When grieving the loss of a loved one or even a pet, it can be overwhelming to cope with personal grief while also helping children cope with theirs. Drawing from a wealth of experience, Nathan has compiled her top "do's and don'ts" that allow an understanding of the children's process while providing specifics about what can be done to help.
"Reach out to support systems, attend groups, and understand that grief is an individual process," said Nathan. "No one grieves or mourns in the exact same way."
The highlights of the article are as follows:
5 Do's for Grieving Children:
1. Permission to Grieve: Allow the child to show that they are in an active state of mourning, and give them permission to do it in their own way.
2. Curiosity and Care: Be curious about what the child is experiencing. Ask lots of questions, yet with care. The questions are unobtrusive and paced. Once the question has been posed, patiently wait for a response. Allow the child to process in their own time.
3. Questions and Honest Answers: When kids lose a parent, sibling or anyone who has been dear to them, they will start to ask questions about death. Answer them as honestly as you are able. Find a way to be honest and yet respond appropriately for their age.
4. Separation of Grief: If the family is suffering from the loss of a loved one, often the children experience the loss of the loved one and the loss of the grieving parent(s). Though it is difficult to put the emotions of grief aside, remember that children are vulnerable, taking cues from the way in which the caregiver copes with the loss.
5. The Gift of Grief: In every loss there is a birth. In the moment of the active state of mourning it is very difficult to imagine that there could be something empowering about the loss. Often, children become more inventive, or better at sports or more insightful when they have lost a loved one or a pet.
5 Don'ts for Coping with Grieving Children:
1. Time for Mourning: Since grief is individual to everyone, know that children will not grieve the way the parents grieve. If you see them playing, don't stop them, as they may be working out some of their grief in their language or comfort zone.
2. The Truth, Please: Saying "Daddy is in a very restful sleep" or "You will see your dog in your dreams" implants a false belief that can cause undue stress and fear for your child. No matter how old your child is, using metaphors for death that liken it to sleep often creates a fear of sleep. This can lead to anxiety and depression for children.
3. Children Need to be Children: It is often a knee-jerk reaction to the loss of a parent to adultify the children in the house. Expecting them to take on adult responsibilities creates a role for the child that they need not have. Let them be children and give them age-appropriate responsibilities, although not given as a response to the loss.
4. Hide and Seek – The Game of Grief: The phases of mourning come to you, rather than you seeking them out. When in the state of grief, children can have outrageous responses to simple situations and stimuli. Put punishments aside for now, and allow for backward movement if it occurs. If you normalize the reactions, the child will re-enter their appropriate developmental phase.
5. Go for a Group: Children often cope with their losses when they are exposed to other kids who have had a similar loss. Local houses of worship, YMCA's, and even family clinics often offer grief support groups for kids of all ages. This is not about you; it is about helping your child cope their loss.
As C.S. Lewis wrote, "the wish to protect the child from the pain of an irreversible loss contains the adult's reluctance to confront a shattered illusion."
The full version of "From Helpless to Helpful: 10 Do's and Don'ts for Grieving Children" is available for free download here: http://bit.ly/1i3FyXK
For more information on Edy Nathan and her services, please visit http://www.edynathan.com.