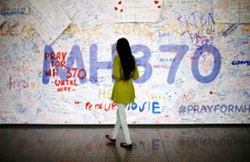 "When it is a sudden loss and there are no explanations for what occurred, the shock can cause a sense of unreality." -Edy Nathan, MA, LCSW
New York, NY (PRWEB) March 25, 2014
World renowned grief expert Edy Nathan, MA, LCSW, today released several key insights in light of the disappearance of Malaysian Airlines Flight 370. As a practicing therapist specializing in grief in all forms, Nathan shares a unique perspective on the impact this tragic event could have on surviving loved ones.
Shock and numbness weigh in for families sequestered in a large room, chilled with an awareness and a distasteful knowing that their loved ones were on the plane that has vanished into thin air. Gathered together, a kind of frenzy can co-exist with an emerging anger and apathy. For survivors on the ground – victims of terrorism by proxy – the emotional turmoil encompasses an array of feelings that exist on the chain of grief. A living nightmare of unanswered questions ensues, in a quest to understand and know exactly what happened.
With little information and the passing of time, the harsh realization crashes down on reality. Knowing that no one has survived yet without the proof creates a sense of false hope. The journey of grief is in its infancy: The shock of losing someone in an accident, especially one that is in public view, is experienced in variety of ways.
"The shock and numbness factor is a protection for the work ahead. Everyone deals with loss differently," says Nathan. "When it is a sudden loss and there are no explanations for what occurred, the shock can cause a sense of unreality. This causes a post-traumatic stress response. How the surviving family has dealt with trauma in the past will often dictate how they handle the present trauma."
Nathan states that while everyone responds differently to trauma, there are 7 common, identifiable experiences for survivors:
1. Feel crazy: There are intrusive thoughts that barrage the mind
2. Disconnected: It seems as if the world is blurry; concentration is difficult
3. Dwelling: Constant rumination about the loss, the deceased, about what will happen next
4. Frightened: Fearful that another catastrophe will happen again
5. Sad: Remembering and re-experiencing the moment the information was given
6. Anxious: Distressed at the reminders of the lost loved one: hungering to find the cause
7. Trust is hard: If this could happen now, what else will happen
The journey to recovering a sense of self after facing a horrific loss is one that forces the surviving loved ones to enter into a focus of moving through the phases of grief. Joining a support group, sharing with friends and family and taking the time to grieve and mourn is imperative to finding the way back to life. The life that was known prior to the sudden loss will never be the same. Life does not end for the survivors, it is a battle of moving in and out of the emotional tides that are embedded in any cycle of loss.
For more information please visit http://www.edynathan.com.