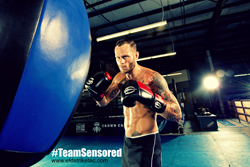 I am a professional mixed martial artist, so it's no secret I'm always looking for an edge, with EFD Striketec I've finally found it. - Tony Kelley
FLORENCE, SOUTH CAROLINA (PRWEB) December 03, 2014
Elliott Fight Dynamics has astounded the boxing scene and fitness industry with the release of their unique sensor technology. Never before has wearable fitness sensor technology reached this level of user feedback, capable of showing in real-time exactly what needs to be done to sharpen the user's game. The sensor allows instant access to such data as the speed, force, and number of punches thrown as the user is working out. This enables fighters to review punch statistics and make adjustments with their trainer without any downtime.
The StrikeTec Sensor displays: Punch Calculations, Punch Type Recognition, Speed Calculations, Force Calculations, and Count Calculations. StrikeTec also allows the user to determine if his/her punches are faster and/or harder. Progress can be tracked between the day/week/month and year. This product is designed for Boxers, Kickboxers, MMA athletes, and Fitness Enthusiast of all levels.
The accompanying StrikeTec Boxing Training App is designed to capture personal training & sparring statistics to help the user track and measure their training routine from a smartphone, tablet, and a PC. The user's data will be tracked live and synced with a Cloud server to allow the user to store the data for future review. The data tracked includes the number of punches thrown & user's progress for fitness training.
Elliott Fight Dynamics is launching a crowdfunding campaign on Kickstarter in order to bring this product to the boxing scene and fitness industry. The sensors in the final stages of beta testing have already been utilized in and outside of the boxing ring and MMA cage with Spike TV and Direct TV. In addition to broadcasting, Elliott Fight Dynamics will offer an app that will allow the user to review and compare stats of the competitors. Live streaming will enable fight viewers to see real-time punch stats.
Funds are required to begin a second round of prototype production, and tooling development. There are a series of rewards for crowd funding sponsors.
For complete information, please visit: Elliott Fight Dynamics
Media Contact:
Elliott Fight Dynamics
Attn: Media Relations
1951 Pisgah Road
Florence, South Carolina 29501
843-413-3288
info(at)efdstriketec(dot)com
Kickstarter link: https://www.kickstarter.com/projects/1334413244/striketec-wearable-fitness-technology-for-boxing
Website: http://www.efdstriketec.com