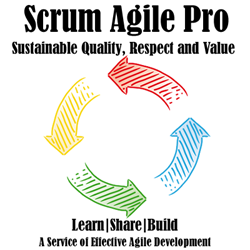 In today's competitive job market, the CSP credential can set you apart as a more advanced Scrum practitioner. - Scrum Alliance
Seattle, WA (PRWEB) December 05, 2013
Effective Agile Development has announced Scrum Agile Pro, the first program available to help students achieve a Certified Scrum Professional Designation (CSP) through the SEU Program from the Scrum Alliance. The program will offer live webinars, live question and answer sessions, and special rates for advanced Scrum training.
All services are designed to deliver Scrum Educational Units (SEUs) towards the 60 hour requirement for the CSP Designation. Participants will generally be able to earn one SEU per hour spent participating in educational activities with Scrum Agile Pro. Complete requirements for CSP are available from the c Srum Alliance.
Targeted learning areas include Scrum Developer Skills, Advanced Product Owner Skills, Advanced ScrumMaster Skills, Agile Testing, and Enterprise Agility. There will be something valuable for every professional.
Courses are already scheduled through March 2014 and include Effective Agile Testing, Effective Agile Architecture, Effective Agile Requirements, and Effective Product Portfolio Management & Release Planning. In person training will be worth 8 SEUs per training day, 8 to 24 SEUs per course.
The first Scrum Agile Pro webinar will cover Scaling Scrum and will be conducted live on January 14, 2014. Members will have the opportunity to influence future webinar topics through their feedback and questions. After each webinar, there will be an open Question & Answer session with a Scrum and Agile community thought leader. Webinars will be worth one SEU each for participants.
The Certified Scrum Professional designation is the mark of an experienced Scrum practitioner with a breadth of knowledge regarding Agile values, practices, and implementation. Certified ScrumMaster and Certified Scrum Product Owner designations are very valuable, however these are both entry level certifications only. The CSP designation is designed to give credit to those who are committed to quality products delivered on time and know how to use Scrum to make that happen.
Scrum Agile Pro is now accepting students and is scheduled to launch January 1, 2014.
Effective Agile Development is a privately owned training and consulting company based in the Seattle area specializing in Scrum and Agile product development. EAD offers a comprehensive training portfolio for public or private delivery and on-site team coaching. A complete list of services is available on the EAD web site. For more information contact EAD at info(at)effectiveagiledev(dot)com or toll free at 1-888-294-1865.