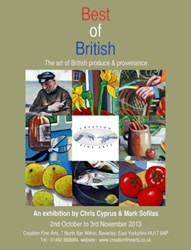 It's been interesting to observe supermarket giants focus on small independent producers, and re-brand packaging with photos of farmers with their cattle… as this seems to tap into our psyche that putting a face to the product makes it more believable and
(PRWEB UK) 24 September 2013
In a topical and thought- provoking collaboration between Lancashire artist Chris Cyprus and Australian artist Mark Sofilas, Beverley's seventh food festival is serving an artistic treat. Best of British, a four-week exhibition running next week, from October 2nd, at Creation Fine Arts in Beverley, celebrates the heart and soul of British life.
Strap-lined The Art of British Produce and Provenance, this nostalgic collection of paintings continues the quest to support British producers and applaud the Great British High Street; with images inspired by the journey British produce takes from source to shop front.
Both Chris and Mark are renowned for keeping simple pleasures and memories alive through their naïve style of painting. Chris captures life of 'yesteryear' during the mill era, with a strong focus on the role allotments play in drawing communities together; whilst Mark's colourful and innocent take on the Yorkshire landscape demonstrates the inspirational qualities of the hills, dales and coastlines.
To celebrate the launch of the food festival, Beverley Council's Mayor is hosting the twinning association visit of Beverley's twin town, Nogent in France, at Creation Fine Arts on Friday 4th October. The show runs from 2nd October until 3rd November and both artists will be present to meet people at the opening on Saturday 5th October between midday and 4pm when the Beverley Food festival will be in full swing!
There is the chance to win one of the artists' limited edition prints through a town food trail staged by Creation Fine Arts. Reflecting the theme of the exhibition which is promoting the importance of buying locally, Creation Fine Arts has organised a trail of seven food themed shops around Beverley for the duration of the food festival between Wednesday Market and the North Bar. Entry forms will be available from Creation Fine Arts and other places in the town to encourage people to look for the prints and identify the names of the shops they are in along with the corresponding title….and correct entries delivered to the gallery by Wednesday 9th October will be placed in a draw to win one of the limited edition prints.
Chris met Mark last year, when Mark was exhibiting at a Yorkshire based gallery…immediately a friendship was struck that fuelled their desire to work together.
"I spent many years in my thirties travelling around France," said Chris, "and always felt envious about the individualism from region to region, unlike many towns in this country that have a cloning effect throughout the high street."
"It's been interesting to observe supermarket giants focus on small independent producers, and re-brand packaging with photos of farmers with their cattle… as this seems to tap into our psyche that putting a face to the product makes it more believable and enhances its quality. This is core to what has inspired Mark and I to paint the Best of British collection, promoting our passion for genuine home grown produce."
"It's refreshing to meet another artist who wants to preserve the heritage and beauty of Britain through his work," said Mark, who following the birth of his twin girls literally moved across the world with his wife to immerse themselves in British culture. Increasingly frustrated as an illustrator, Mark felt drawn to use his artistic skills to treasure the vibrancy and fabric of this country.
Near-death misses persuaded Chris to pursue his love of art in his early 30s and make a living out of his passion. After two bouts of cancer, and two bizarrely close brushes with the Twin Tower and London bombing terror outrages, Chris said: "Having cancer and narrowly avoiding catastrophic attacks made me see that you only get one life and you have to make the most of it, and painting and seeking solace in the peace of my allotment make me happy." Chris observes philosophically. Chris's imagined pictures are rooted in real scenes that have barely changed in a generation; his drive is to capture on canvas the perfect community.
When Nigel Walker opened Creation Fine Arts and was looking for new work, Chris recommended Mark as his partner in a joint collaboration….resulting in the project, Best of British, designed to support Beverley Food Festival.
For opening times and further details, call 01482 868884 or visit creationfinearts.co.uk.
For more information contact Chris Cyprus on 07903455388/ http://www.chriscyprus.com, or Nigel Walker on 07534981220/ nigel(at)creationfinearts(dot)co.uk or Rachel Wallace, rachel(at)jigsawmedia.co(dot)uk , on 07939292820 or Mark Sofilas on 07942 521 059 / mark(at)marksofilasart(dot)com