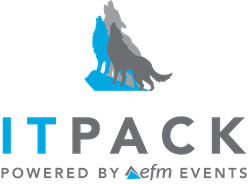 IT Pack offers IT practitioners the opportunity to increase their network exponentially by connecting within the community and learning from one another in a safe environment. This alone makes IT Pack invaluable." - Dave Robinson, Former Global CIO, Lockton Companies
HUMBOLDT, Iowa (PRWEB) December 17, 2019
In the past 18+ years, EFM Events has grown to over 30 events and 9,000 attendees annually. As EFM Events has continued to collect feedback from the IT leaders, one thing became very clear – they love the experience of the events and want a way to continue the experience and conversations year round. Although there are different platforms such as YouTube, LinkedIn, Facebook, podcasts, and others that offer an opportunity to learn – there hasn't been a platform to encompass all of these materials in one place...until now.
IT Pack was built to meet the ever-growing needs of today's IT professional. The opportunity to learn from peers via webinars, the executive conversation series (CIO Interviews), written articles, suggested reading, as well as the forum experience in both the "ask the pack" and private group rooms. In 2020, we will be introducing the option of video chat through the platform as we continue to find Sr. IT Executives interested in mentoring promising IT talent as they grow in their careers.
The power of a professional's network has been best summed up by the Host of IT Pack's "Executive Conversation Series" 35 year IT practitioner and Global CIO for 21 years at Lockton Companies, Dave Robinson.
"We all have 4 or 5 people in our inner circle. People we respect and trust. People we can rely on and call anytime for advice. These are the connections that help drive our careers and success. IT Pack offers IT practitioners the opportunity to increase their network exponentially by connecting within the community and learning from one another in a safe environment. This alone makes IT Pack invaluable."
Join IT Pack risk-free for 30-days with no credit card required. A one-year subscription is $100 and will allow IT professionals access to exclusive content, discussion boards, direct contact with industry-leading IT executives, mentor-mentee relationships, and discounts on continuing education (both certificates and professional enhancement courses).
To learn more about IT Pack and sign-up for your risk-free trial, visit http://www.itpack.com, today!