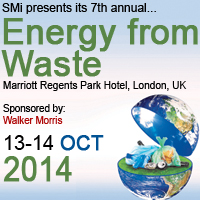 EfW won't plug the gap as a whole, but it has a major role to play. - Recycling & Waste World, 2014
London, Southwark (PRWEB UK) 3 August 2014
Right across Europe, existing power stations are being converted to be able to use waste as a fuel instead of coal. In the UK around a fifth of power stations are likely to close by 2020. The government is coming under increasing pressure not just to keep energy prices low, but to keep the lights on. EfW won't plug the gap as a whole, but it has a major role to play.
(Recycling & Waste World, Has energy from waste a role to play in the circular economy? , 2014)
Following on from this Greater London Authority will be speaking at this year's Energy from Waste conference to provide insight on how London is gearing towards zero waste in the city. Highlights from the presentation include:

London as the leader in waste management
Achieving zero waste by land-fill by 2031
London's waste management system
Unlocking waste's value
Opportunities and challenges
This is just a snippet of what will be covered. This year's event will provide the ideal platform for a complete industry overview with updates on an array of EfW projects, latest technology advances and innovations, regulatory framework, financing models, CHP and district heating projects, feedstock in the supply chain along with case studies from the UK and Europe. Other speakers will include Ofgem, Green Investment Bank, Amey, Suez Environment, Resource Efficiency Pathway, Waste to Energy Agency (Oslo), Merseyside Recycling and Waste plus many more.
For more information please visit: http://www.waste-energy.net.
For more information and full programme details, please visit:
7th annual Energy from Waste
13-14 October, 2014
Marriott Regents Park Hotel, London, UK
http://www.waste-energy.net
About SMi Group
Established since 1993, the SMi Group is a global event-production company that specializes in Business-to-Business Conferences, Workshops, Masterclasses and online Communities. We create and deliver events in the Defence, Security, Energy, Utilities, Finance and Pharmaceutical industries.
We pride ourselves on having access to the world's most forward thinking opinion leaders and visionaries, allowing us to bring our communities together to Learn, Engage, Share and Network. We hold events in over 30 major cities throughout the world including London, Paris and Singapore and to date have welcomed over 200,000 participants from 80 countries.
More information can be found at http://www.smi-online.co.uk.