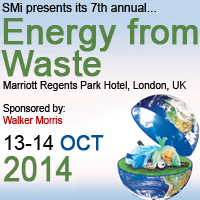 London, Southwark (PRWEB UK) 28 September 2014
Energy from Waste 2014 will provide the ideal platform for a complete industry overview with updates on an array of EfW projects, latest technology advances and innovations, regulatory framework, financing models, CHP and district heating projects, feedstock in the supply chain along with case studies from the UK and Europe.
Event Highlights:

Discover how Ofgem is helping UK meet EU targets towards reducing carbon emissions through the non-domestic RHI scheme with Technical Manager - Non-Domestic RHI, Frances Hale
Learn from Greater London Authority's waste management system and how it is achieving zero waste by land-fill by 2031. London as the leader in waste management. Policy and Programme Manager, Andrew Richmond
Green Investment Bank provides an update on the state of the financial markets and how to apply project finance techniques to EfW. Case studies at Green Investment Bank. Managing Director Waste and Bioenergy, Chris Holmes
Receive key insights into what Oslo is doing to convert waste to energy and how it is achieving its objectives. The Norway example. Pal Mikkelsen, CEO, EGE (Waste to Energy Agency)
Thames Water provides an overview of the wastewater industry in the UK. Renewable energy from sewage sludge by Waste Innovation Manager, Nick Mills
Hear from the Merseyside Recycling and Waste Authority and gain valuable insight into the Merseyside and Halton Project - Providing sustainable and efficient solutions for municipal waste
Understand and review the current state of the sector: size, shape and value of the 'renewable nation.' Redefining the problem to solve the problem. Shashanka Shekhar Panda, Founder-chairman and CEO, Blue Earth Enterprise
This is just a snippet of what will be covered. Other speakers will include Staffordshire County Council, Suffolk County Council, Resource Efficiency Pathway, Amey plus a Panel Debate with Copper Consultancy, SMBC, Green Investment Bank and CMS Cameron McKenna. Click here to see the full speaker line up and conference agenda.
NETWORK WITH: Severn Trent Water, Nordic Investment Bank, LondonWaste, Doosan Power Systems, Sumitomo Mitsui Banking Corporation Europe, Impetus Waste Management, Essex County Council and more at this event.
For more information, please contact Sultan Alamro on +44(0) 207 827 6066 | salamro(at)smi-online.co(dot)uk
--END--
For more information and full programme details, please visit:
Energy from Waste
13-14 October, 2014
Marriott Regents Park Hotel, London, UK
sponsored by RES & Walker Morris
http://www.waste-energy.net
About SMi Group:
Established since 1993, the SMi Group is a global event-production company that specializes in Business-to-Business Conferences, Workshops, Masterclasses, and online Communities. SMi Group creates and delivers events in the Defence, Security, Energy, Utilities, Finance, and Pharmaceutical industries.
SMi Group has access to the world's most forward thinking opinion leaders and visionaries, allowing communities to Learn, Engage, Share, and Network together. SMi Group hold events in over 30 major cities throughout the world, including London, Paris, and Singapore, and to date, have welcomed over 200,000 participants from 80 countries.
More information can be found at http://www.smi-online.co.uk.