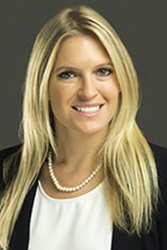 We're proud to be growing organically, as we onboard sizeable banks and other clients here and in Southeastern Pennsylvania.
Cherry Hill, NJ (PRWEB) November 30, 2016
With its continued growth, the death of one founding partner, the retirement of another, and the addition of a new associate, the newly rebranded South Jersey commercial and real estate law firm Eisenberg, Gold & Agrawal has remained fiercely independent despite the trend of small firm consolidation in the Delaware Valley. Nonetheless, the six attorney, 14-employee firm has been retooling itself to better serve a largely banking clientele that is concerned with the ever-changing regulatory environment.
The firm announced that Danielle Damore of Sewell, N.J., has joined as an associate attorney, and Mary B. Fisher, from Orlando, Florida, has been appointed Of Counsel. Damore was previously a staff attorney for Allstate Insurance in Philadelphia, and prior to that was an associate attorney specializing on contracts for Boonswang Law in Philadelphia. Ms. Damore earned her bachelor of arts degree in political science from University of South Florida, and her juris doctor degree from Rutgers School of Law in Camden, N.J.
Fisher was principal of Law Offices of Mary B. Fisher for two years prior to first joining then-Eisenberg, Gold and Cettei as an associate in 2009. Prior to that, she served as assistant counsel and assistant vice president of Popular Financial Holdings, Inc., in Marlton, N.J. Her specific areas of practice include commercial litigation, commercial transactions and contract negotiation.
The appointments come soon after the departure of Donna Cettei in June 2016, and after the passing of William Eisenberg. Eisenberg's name remains part of the EG&A name and logo.
"It's been an eventful period for EG&A, not always in a good way, but we're thrilled to have Danielle Damore join our team of highly motivated and skilled attorneys, and are poised to deliver the expertise and counsel our clients deserve," said Founding Partner Janet Gold. "We're proud to be growing organically, as we onboard sizeable banks and other clients here and in Southeastern Pennsylvania."
That growth has been filling EG&A's 3,700 square feet – 28 percent of it added in 2015 – in its office at 1040 Kings Highway in Cherry Hill. The firm also has offices available in Jenkintown, Pennsylvania to meet and service clients. Firm-wide, EG&A has been investing in procedures to assure privacy of sensitive information in conjunction with new regulatory and compliance requirements. These include encrypting e-mails with ZixCorp software for ease of communication with clients, and secure shredding and storage services.
With the new name, the firm has also stepped up its marketing and industry outreach. Amar Agrawal was recently appointed to the Board of Directors for the Risk Management Association, South Jersey Chapter. Andrew Unterlack, an associate who joined EG&A in 2015 and has over 18 years' experience, was named a Top Attorney by a local magazine in August, 2016. And Janet Gold will present at the National Business Institute's Title Law Seminar Dec. 5, 2016, in Princeton, N.J.
Eisenberg, Gold & Agrawal, P.C. provides legal counsel to corporate, small business and individual clients throughout New Jersey and Southeastern Pennsylvania in the areas of real estate law, creditors' rights, foreclosure and bankruptcy, condominium and community association law, civil and commercial litigation, estate and probate law. For more information, visit http://www.egalawfirm.com.