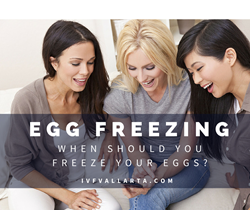 If you are delaying parenthood to pursue a stable relationship, challenging yourself to an advanced education, building your career, or any number of reasons, it is significant to talk to our fertility specialists about the effects age has on fertility.
Chicago, IL (PRWEB) June 30, 2015
The LIV Fertility Center in Puerto Vallarta is taking an extraordinary step to educate women on fertility preservation and deciding the right age to pursue egg freezing. Statistics show that 20 percent of women are waiting to have their first child until after the age of 35 — a 150 percent increase since the 1970s.
Sadly, for women who have delayed parenthood for a gratifying career status, to travel the world, or concluded their pursuit for the perfect partner, the reality is — their eggs may no longer be viable and they may be unable to get pregnant. With more and more women postponing motherhood, the question becomes — when should a woman freeze her eggs?
Experts at the leading fertility clinic in Mexico want women to recognize and truly embrace the advantages of egg freezing at an early age. "If you are delaying parenthood to pursue a stable relationship, challenging yourself to an advanced education, building your career, or any number of reasons, it is significant to talk to our fertility specialists about the effects age has on fertility," stated Gisel Soriano, Clinical Manager at the LIV Fertility Center.
Q & A with Dr. Horacio Vega —
Dr. Horacio Vega thrives on achieving positive results by providing patients expert fertility services in a modernized, relaxed atmosphere. His professional recognition, continuous medical education, and personal achievements have positioned him as an innovator at the iconic fertility center in Mexico.
In an interview earlier this week, Dr. Horacio Vega discussed egg cryopreservation and the right age to consider it.
Q: Today, 20 percent of women are delaying motherhood until after age 35. How important is it for you, specifically, that women are properly educated on egg freezing?
A: It is extremely important because the overall goal for our team is to help build families. A woman is most fertile from about age 18 to 29. Over the age 30, fertility progressively declines. This type of information is tremendously significant for women who are delaying parenthood. Doctors need to educate their patients on the variables of aging and egg freezing. The younger you are, the better the outcome of egg freezing.
Q: Some women who are delaying the egg freezing process may find that their eggs are no longer viable. When do you recommend a woman should consider egg freezing? When is it too late?
A: When deciding the right time to freeze a woman's eggs, it is important to consider the age-related decline in fertility rates. Freezing eggs at an early reproductive age will give you the best chance for a future pregnancy. If you know that you're going to postpone parenthood past 30 for whatever reason, you should consider egg freezing. Most women typically lose the ability to conceive in their early 40s. Our remarkable LIV team can provide you with additional information on the risks, the benefits, and the success rates.
Q: What are the success rates associated with egg freezing?
A: Today, women interested in freezing their eggs can gain security for the future. Based on research and recent medical advancements, the average egg thaw rates of over 80 percent and fertilization rates as high as 80 percent are anticipated in women up to the age of 38.
Q: If egg freezing is not an option, what are the other possibilities to build a family?
A: As a fertility doctor, I am passionate about helping my patients reach their dreams of parenthood. Its heart wrenching to have to tell a woman that she isn't producing eggs or that we cannot use her eggs due to poor quality. In these types of situations, we explore other options, such as IVF treatment with donor eggs.
Egg Freezing — Inspiring Breakthrough
Egg freezing has become an inspiring breakthrough for women to take control of their parenting destiny. From leading employers offering staff subsidized egg freezing to fertility clinics worldwide seeing a commanding increase in the number of women seeking fertility preservation, it's a subject that has been widely covered in the media.
If a woman decides to not have children of her own until after peak reproductive years, fertility preservation should be highly considered. For women at risk of infertility issues like PCOS or Premature Ovarian Failure, egg freezing is a valuable foundation for future family building. Egg freezing is also an option for women undergoing treatment such as chemotherapy, which can greatly impact a woman's fertility.
So, how does it work? The first step is to produce multiple eggs for retrieval using fertility medication. When the follicles are mature, the egg retrieval is scheduled. During this painless and relatively brief procedure, ultrasound guidance is used to gently retrieve eggs from the ovarian follicles. The lab then preserves the retrieved eggs through a rapid freezing process called vitrification. The eggs remain frozen until they are needed. To talk with someone about the egg freezing process at the LIV Fertility Center, or to answer any other questions, please contact us.
About LIV Fertility Center
The LIV Fertility Center in Puerto Vallarta is a renowned, world-class fertility center that embraces affordability, technical expertise, proven successful outcomes, and the ability to exceed the challenges for every individual case of infertility. Infertility is one of life's most difficult encounters — medically and emotionally. The LIV team is continually striving to implement new infertility technologies and a management structure to embrace patients on their journey to parenthood. The world-class laboratory precisely reflects in the pioneering treatments of In Vitro Fertilization (IVF), Embryo Cryopreservation, Assisted Hatching, and Gender Selection. LIV invites you to revel in a unique cultural experience in Puerto Vallarta with its year-round stunning climate, gorgeous pristine beaches and a dazzling array of world-class attractions.
LIV Fertility Center Mission Statement
Adhering to a set of core values that characterizes our beliefs, the LIV Fertility Center's mission is to provide affordable, trustworthy and successful fertility lifelines to those we serve on all facets of the globe.