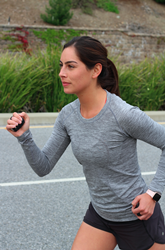 (PRWEB) March 21, 2019
The ergonomic running tool brand Egg Weights is helping one runner train with the intent to challenge herself and raise awareness for those who challenge themselves every day. Molly Cuevas will run across America April 1, starting in Santa Monica, California and end her three-month journey in Montauk, New York for a noble cause. Her Miles By Molly campaign dedicates the 3,000-mile run to the Challenged Athletes Foundation, or CAF. The organization provides opportunities and support to people with physical challenges, so they can pursue an active lifestyle through physical activity and competitive athletics.
"I was fortunate enough to be born with full physical capabilities, and to be frank, I took it for granted up until a few years ago," Cuevas says. "Sports create a sense of confidence, community, inclusion and empowerment. I believe everyone deserves a chance to participate in such meaningful experiences."
In order to reach her goal of spreading awareness, promoting inclusion and uniting people along the way, she must be on top of her training first. Egg Weights took her endurance to the next level in a natural way. One of the many benefits of Molly using the Egg Weights is that they increased the intensity of her workouts by strengthening her entire body. This dense egg-shaped weight that comfortably fits the palm of your hand is scientifically proven to increase the intensity of any movement from 28% - 62% with less injury and stress to the body.
Cuevas is not only preparing physically but mentally as well. To achieve both, she's hired Champion Ultra Runner Bree Lambert to help her train. As an experienced competitor in 50k to 100-mile events, Lambert knows the physical challenges Cuevas is up against, that's why she welcomes the use of Egg Weights in training. As her performance coach, Lambert wanted Cuevas to use Egg Weights because she believes it's an excellent training tool for running.
About Molly Cuevas: The 24-year-old California native grew up outside playing a variety of sports out in the street and in organized leagues. Playing field hockey in college, she was a three time All-American, four time Academic All-American, captain, broke nearly every record the field hockey program had and set some new ones of her own. Sports have been a huge part of her life on and off the field and she believes everyone deserves a chance to participate in these meaningful experiences they have.