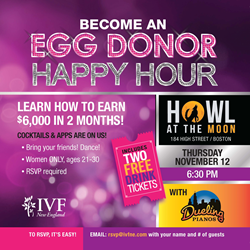 "With the help of our egg donors, everyone has a chance to make their dreams come true and start a family"
Lexington, MA (PRWEB) November 10, 2015
IVF New England, one of the largest and most successful fertility centers in the country, will host the first ever Egg Donor Happy Hour event at the popular Howl at the Moon bar in Boston on Thursday, November 12 at 6:30 PM. This engaging event will provide valuable information in a casual environment to women who are interested in learning more about becoming an egg donor.
This one of a kind event offers a social "happy hour", complete with complementary cocktails and appetizers, and is open to women only. Attendees will have an opportunity to speak with our experts regarding the process of becoming an egg donor and meet past woman who have successfully donated their eggs.
View the Egg Donor Cocktail Hour Eventbright invitation at https://www.eventbrite.com/e/become-a-donor-happy-hour-tickets-19017800754
Egg donation is an extremely important part of in vitro fertilization as it offers hope to patients looking to start a family. Women who donate their eggs make becoming a parent possible for individuals and couples who are otherwise unable to conceive.
Unfortunately, many women have difficulty producing healthy, viable eggs due to ovarian problems and other various reproductive complications. Creating a family is also an especially unique process for same-sex couples and gay men, who must utilize an egg donor to build a family.
Egg donors are healthy woman between the ages of 21-30 who pass rigorous medical and psychological tests, takes a series of injectable medications, and undergo an outpatient surgical procedure for egg retrieval. First-time donors receive a compensation package for their time and effort of $6,000 and can donate up to six times.
WHEN: Thursday, November 12 at 6:30 PM
WHERE: Howl at the Moon, 184 High Street Boston, MA
WHO: Paula Dwan, RNC, MS, WHNP-BC and Linda Hillis, Donor Egg Services Liaison of IVF New England, to present information on becoming an egg donor and answer questions from attendees.
"Our egg donor program is such a vital aspect of what we do," said, Paula Dwan RNC, MS, WHNP-BC.
"We need egg donors to help couples achieve their only hope of having a baby. With the help of our egg donors, everyone has a chance to make their dreams come true and start a family" she continued.
"Events like these are really a great, unique way for prospective donors to get information in a casual environment."
For more information on the IVF New England Egg Donor Program, please visit http://www.ivfne.com/become-an-egg-donor/
ABOUT IVF New England
IVF New England is a nationally recognized Top 10 Fertility Treatment Center. For more than 25 years, our award-winning physicians and Center of Excellence distinctions ensure patients receive the highest quality care and best outcomes. Our fertility center provides comprehensive diagnosis, evaluation, consultation, and treatments for infertility, fertility preservation and egg donation. With 14 convenient locations in Massachusetts, New Hampshire, and Rhode Island and a proven record of success, we are dedicated to helping couples bring home healthy babies.
IVF New England is one of only four founding members of MyEggBank North America which was the first and now the largest bank of frozen donor eggs in the country.
Contact: Theo LoPreste 781-850-5367