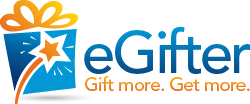 Together with eGifter, we are building bridges between retail shopping and digital currency communities.
Huntington, New York (PRWEB) April 08, 2014
eGifter has chosen GoCoin to enable payments using Dogecoin and Litecoin. The move is a major step in the evolution of these two lesser known cryptocurrencies. eGifter offers eGift cards from almost 200 major US brands which gives holders of these emerging cryptocurrencies many additional places to spend their coins.
eGifter was one of the first companies to start taking Bitcoin in 2013 and is now among only a few accepting Dogecoin and Litecoin.
eGifter continues to embrace these emerging technologies for multiple reasons. "Using GoCoin we get a secure, fraud-free transaction at a cost of only 1% compared with over 2% for credit cards," said Tyler Roye, eGifter CEO. "Given the risks for online merchants relating to 'card-not-present' fraud, this is a very attractive alternative."
"We are thrilled to see key merchants in the Bitcoin eco-system embrace the alt-coins and their unique communities," said Steve Beauregard, Founder and CEO of GoCoin. "Together with eGifter, we are building bridges between retail shopping and digital currency communities." GoCoin added Dogecoin and Litecoin in the last week of March, 2014.
Litecoin is a peer-to-peer cryptocurrency that is technically similar to bitcoin and was designed to improve on it by offering faster transactions as one of the key benefits. Litecoin is the second-largest cryptocurrency by market capitalization.
Introduced on December 8, 2013, Dogecoin has a fast initial coin production schedule when compared to other cryptocurrencies. There will be approximately 100 billion coins in circulation by the end of 2014 with an additional 5.2 billion coins every year thereafter. As of 30 March 2014, over 65 billion Dogecoins have been mined.
While these coins have not yet had the media coverage of bitcoin, they do have growing communities of passionate supporters. Everyone is wondering which, if any, will be the next cryptocurrencies to emerge. eGifter and GoCoin together make a strong argument that the answer is Dogecoin and Litecoin.
eGifter does not take possession of the cryptocurrency. "GoCoin accepts the coins and converts them to cash so that we never have to touch them," said Roye. "This shields us from the market fluctuations and other risks associated with taking cryptocurrencies as a payment option."
eGifter's strategy is to be an early-mover and capture market share. Each community has supporters that have been asking eGifter to begin accepting their coins.
eGifter continues to be committed to being first to market with new and innovative payment alternatives.
"They are appreciative of our efforts to support their communities, and for the impact eGifter can have on their ecosystems," said Roye. "We anticipate a pretty strong response to this move."
About eGifter
eGifter revolutionizes the act of gift giving with a social and mobile gifting platform designed to create a fun experience for consumers, while helping retailers unlock the viral potential of gift giving in social spaces. eGifter is based on New York and was founded in 2011 by a group of proven tech entrepreneurs. To learn more about eGifter and their social and mobile group gifting platform, visit http://www.eGifter.com/Retailers/. Try it out at http://www.eGifter.com or download the mobile app from iTunes or Google Play.
About GoCoin
GoCoin is an international digital currency payments platform enabling merchants to accept bitcoin, Litecoin, Dogecoin and other digital currencies with key benefits such as eliminating high fees, costly chargebacks and inherent credit card payment friction. Our service replaces the need for the likes of PayPal or Authorize.net instead customers pay with Bitcoin opening up the global market of shoppers and gamers to participate for the first time in eCommerce, Internet gaming, Internet entertainment and charitable giving. Founded in July 2013, GoCoin is an international group of companies with a presence in Asia Pacific, the Americas, the Caribbean and Europe. For more information, please visit http://www.gocoin.com.