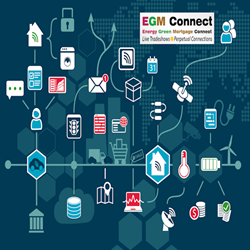 What good is it to design the most energy-efficient and green features for a new residence or residential retrofit if you cannot get it financed?
Kansas City, Missouri (PRWEB) October 16, 2016
The EGM Connect 3D Virtual Tradeshows are kicking off with live virtual events from October 28th through 31st 2016. The show will provide answers to the universal question:
"What good is it to design the most energy-efficient and green features for a new residence or residential retrofit if financing for these upgrades can be difficult to obtain?"
EGMConnect3d.com is a 3D interactive virtual platform that looks and feels like an actual tradeshow. As attendees enter the show they will view a number of 'house shaped' booths that comprise a virtual village. These booths are known as "Host Homes" and they serve two purposes; to provide general information on topics related to the theme of the show and they provide a gateway to booths associated to that particular topic. For example, the Private Lenders Host Home contains helpful videos and literature and connects to financing sources like private sector lenders, investors and crowd funding options.
Attendees customize their own 'human' avatar that walks from booth to booth to gather information just like any conventional tradeshow. The avatars are identifiable in that attendees can recognize and chat with each other, exchange business cards and even have live conversations including video via Skype. Avatars also interact with vendor representatives in each booth to collect brochures, product literature and contact information in their virtual tradeshow bag for later retrieval. Information stored in the show bag can then be downloaded directly to a computer or other storage option such as the cloud.
What the EGM Connect Tradeshow offers is a new, revolutionary platform and experience that is a "Greensend" to anyone looking for energy efficiency, renewable/clean energy and green related products. EGM stands for Energy Green Mortgage and the "Mortgage" component ensures financing options are included for those inclined to undertake a deep energy retrofit or purchase a new high-tech, low-impact home.
Attending an EGM Connect Tradeshow is like going to a home show that is focused on energy efficiency, renewable energy and green products. There are booths with vendors to answer questions and introduce attendees to the latest products and technologies on the market. There are informational seminars to help visitors make informed decisions. There are organizations in attendance to provide help in understanding the entire landscape of a topic of interest. The big change is that this tradeshow is virtual and accessible on a 24/7 basis from the comfort of a computer or mobile device.
There are eight Host Homes in all; providing information covering the topics of green/sustainable products and technologies, smart home-smart grid, clean-renewable systems, hybrid/electric vehicles, healthy home, energy efficient & zero-energy buildings, innovative financing and education/certification opportunities.
The first live tradeshow event is coming up soon; it runs from October 28th through 31st, 2016 and will remain available 24/7 for return visits. Complimentary registration is available at http://EGMConnect3D.com