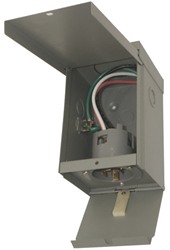 Dallas, TX (PRWEB) June 12, 2015
TheHardwareCity.com is constantly enlarging their online inventory with new and innovative home products. Customers are sure to find tools and products that match their home improvement needs. Free shipping is granted through the specialty store for the purchase of the Connecticut Electric EGSPI30 30A Rainproof Generator Power Inlet Box.
Homeowners can find a quick solution to emergency preparedness with the generator hook-up. The inlet box has been manufactured for use with EmerGen Switch Transfer switches or other similar generator receptacles, allowing consumers to safely and easily alternate from utility power to generator power. Generators that have a 30 Amp output (7,500 Watt) are compatible with the inlet box. The product is integrated with an inlet receptacle that is pre-wired, for straightforward installation, and it can receive Siemens HR Series Conduit Hubs.
The generator inlet box incorporates a L14-30 inlet plug and comes with a hinged door, which protects the electrical device from pests. Since it is a rainproof product and manufactured with quality steel, homeowners can be assured it will withstand all weather conditions and be available when needed.
As a supplier of Connecticut Electric products, TheHardwareCity.com sustains their reputation for offering consumers the best in home improvement tools and merchandise. Connecticut Electric has been manufacturing top electric products since 1906.
By ordering the inlet box directly from TheHardwareCity.com, customers benefit from a discount, and the convenience of having the item shipped directly to them without shipping fees. To view more information about the generator inlet box, visit http://www.thehardwarecity.com/products/EGSPI30--30A-Rainproof-Generator-Power-Inlet-Box/0004220.
About TheHardwareCity.com:
TheHardwareCity.com has provided homeowners with top quality tools and merchandise since 2007. Consumers are sure to find the tool or item they need or desire on the store's vast online catalog. Offering expert advice for products in various departments including electrical, plumbing, heating, lawn and garden, hand tools, paint, building supplies, and more, the team at TheHardwareCity.com is available for live chat Monday through Friday. To view other available Connecticut Electric products, visit http://www.thehardwarecity.com/