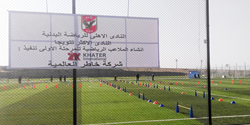 The synthetic turf system is highly developed and tested to deliver performance and safety for both high-intensity training use and professional matches.
Austin, Texas (PRWEB) May 28, 2015
Al-Ahly Sporting Club has won 130 official trophies, more than any other senior team in the world. Following completion of the newly constructed training centre in Cairo, Egypt, the high-profile football club now trains on top quality synthetic turf from Act Global.
"The best football players deserve the best playing surfaces, and we are pleased Al-Ahly SC selected Xtreme Turf," said Chris Clapham, director and co-owner of Act Global. "The synthetic turf system is developed and tested to deliver performance and safety for both high-intensity training use and professional matches."
The professional training grounds in Cairo, Egypt feature two 11-a-side fields and multiple five-a-side fields. The 3G Xtreme Turf features a highly durable monofilament fibre from Bonar Yarns, which also lends natural, full coverage appearance. The artificial turf system has been installed and certified in some of the finest sporting stadiums around the world, and proven to meet the highest international standards in terms of performance, safety and resilience. The pitches were expertly installed by local partner Khater Sports, the leader in high quality turf projects in Egypt.
Al-Ahly SC, founded in 1907, was named "African Club of the Century" by The Confederation of African Football and is considered the world's most successful football club. In winning the 2014 CAF Super Cup, Al-Ahly set a world record of 20 international title wins. Domestically, the club has won the Egyptian Premier League 37 times, the Egypt Cup 35 times and the Egyptian Super Cup eight times.
About Act Global
Act Global is a world leader in synthetic turf and artificial grass manufacturing. The company's artificial Xtreme Turf and Xtreme Lawn products replicate natural grass for use in international stadiums, indoor sport centers, synthetic lawns and other synthetic grass uses. Its LiteEarth and AvTurf affiliations add capabilities for landfills and airports. Act Global has four manufacturing locations in USA, Europe and Asia and installations in over 70 countries. Act Global is notable for currently being the first company in the world that is a FIFA Preferred Producer for Football Turf, Synthetic Turf Council Certified Manufacturer and holds an ISO 9001 certification. For additional information, please visit
http://www.ActGlobal.com.